The 25 Hottest Neighborhoods for 2013
Great neighborhoods are the building blocks of great cities. Together, these dense collections of utterly unique histories, cultures, tastes and attitudes combine to create larger communities greater than the sum of their already considerable parts.
That is why Zillow set out to identify which neighborhoods – regardless of the city that surrounds them – will be the hottest in 2013, based on their anticipated gains in home value between December 2012 and December 2013.
Zillow analyzed forecasted Zillow Home Value Index (ZHVI) data for more than 5,100 individual neighborhoods in hundreds of cities nationwide. Below are lists of the top 10 hottest neighborhoods based on expected home value appreciation, and the 10 neighborhoods expected to show the least home value appreciation.
25 Hottest 'Hoods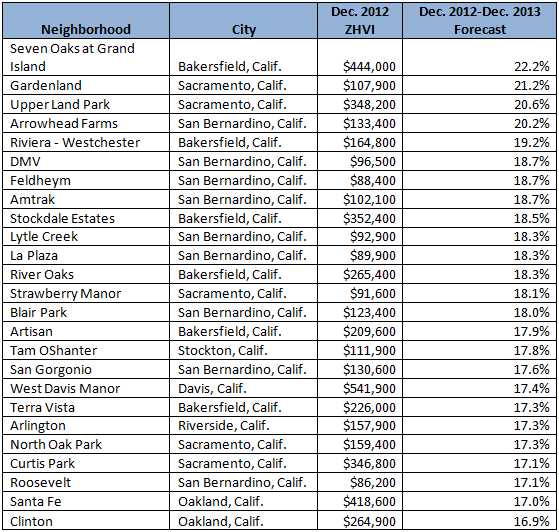 Gains in home values are often driven by the same factors that contribute to dynamic neighborhoods – things such as changing local demographics, proximity to popular goods and services, attractiveness of the local housing stock and local reputation. And that remains true in a general sense.
But on this list, theres an additional factor at play: plain old supply and demand. In many of the hottest neighborhoods, there is little available supply to meet robust demand from buyers either seeking a bargain or looking to live in traditionally desirable neighborhoods. As a result, prices are expected to quickly rise as buyers engage in bidding wars on the few available properties, which in turn brings up values across the board.
As you'll see, the hottest neighborhoods list is also dominated by neighborhoods in cities – specifically, California cities – that were among those hardest-hit by the housing recession. A large number of homeowners in these areas remain trapped by negative equity – or "underwater," owing more on their mortgage than their home is worth – and as a result have a very difficult time listing their homes for sale. This contributes significantly to the kinds of supply constraints outlined above.
Home value forecast information is available at the ZIP code, neighborhood, city, county, metro and national levels. Email press@zillow.com for more data.
To see how your neighborhood will stack up in 2013, check out the interactive tool below.