National Inventory Crunch Eases in First Half of 2013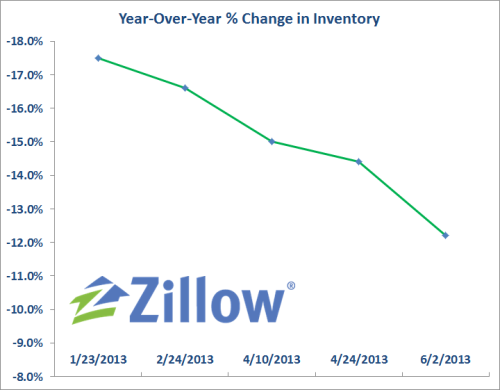 The lack of available homes for sale, or "inventory," continues to be a major theme of the 2013 housing market. As of June 2, the overall number of for-sale listings on Zillow was down 12.2 percent year-over-year. But that may actually represent some good news.
Even though inventory remains down compared to last year, the crunch is less severe than it was at the beginning of 2013. On Jan. 23, there were 17.5 percent fewer listings overall of for-sale homes on Zillow. In other words, inventory of for-sale homes on Zillow improved by 5.3 percentage points between January and June, controlling for seasonality.
Zillow's analysis covers homes nationally and in the 99 largest metro areas covered by Zillow, and across bottom, middle and top price tiers.
Overall, year-over-year inventory levels improved in June compared to January in 70 metros and the nation as a whole. Among the 30 largest metro areas covered by Zillow, those with the highest degree of year-over-year inventory improvement between January and June include Phoenix (31.9 percentage point improvement); San Diego (14.9 percentage point improvement); and Minneapolis (13.5 percentage point improvement).
Inventory shortages worsened between January and June in 29 metro areas overall and in 11 of the top 30 largest metros. Large metros where inventory constraints have tightened the most since the beginning of the year include Las Vegas (-21.8 percentage point worsening); Chicago (-12.3 percentage point worsening); and Washington, DC (-9.8 percentage point worsening).
"As the recovery has progressed, inventory constraints have played a major role in rapidly pushing up home values in many areas, as increasing demand for homes ran headlong into limited supply. It has always been just a matter of time before more supply came on the market to meet this demand, as homebuilders built more new homes, and sellers entered the market to capitalize on recent robust appreciation in their own homes," said Zillow Chief Economist Dr. Stan Humphries. "Inventory will likely remain below year-ago levels for a while yet, as builders ramp up capacity and sellers wait to squeeze every drop of equity from their home before listing. But a corner has been turned. Going forward, as this new supply makes its way to market, we expect the pace of home value appreciation to slow down from unsustainably high annual levels of 5 percent or above to more moderate levels closer to historic norms of 3 percent or 4 percent."
Nationwide, the greatest year-over-year decreases in inventory were among more expensive homes, with the availability of top-tier and middle-tier properties each falling 15.7 percent year-over-year. The number of bottom-tier properties for sale on Zillow nationwide fell only 2.5 percent in early June compared to June 2012.