Now Live: Zillow Apps for iOS 7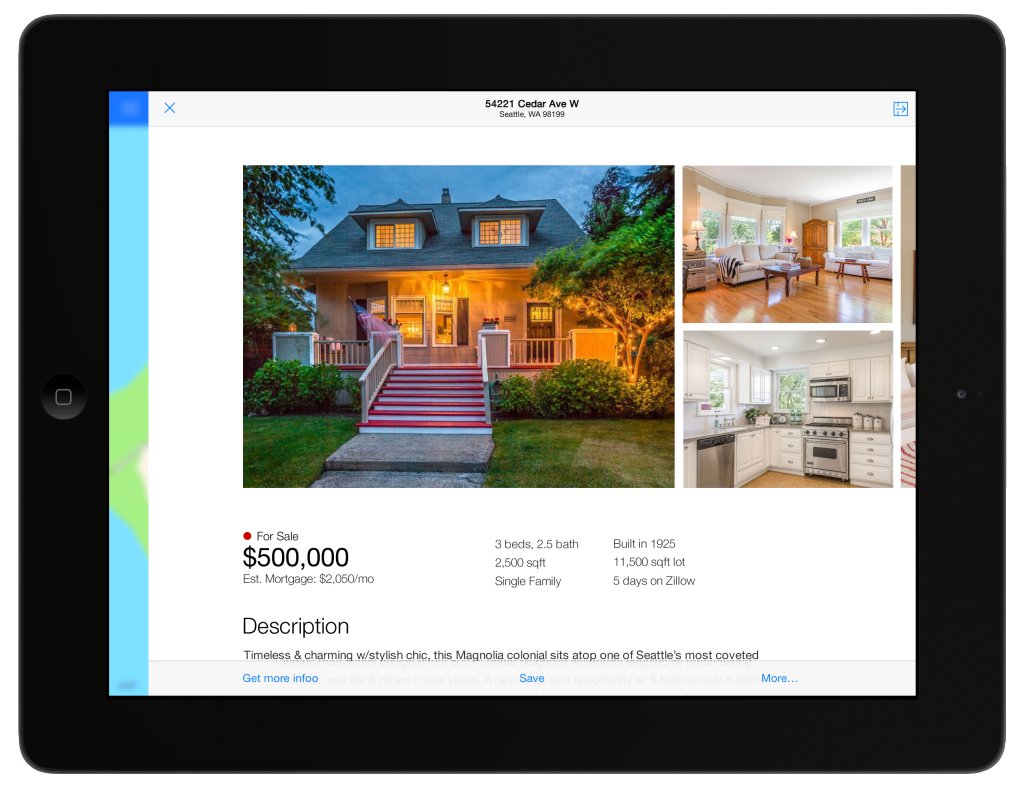 Home shoppers spend a lot of time on Zillow Mobile apps. In August alone, people spent more than      9 million hours on Zillow's apps, viewing more than 320 million homes – that's 120 homes per second and more than double the number of homes viewed one year ago. We wanted to make all of this time spent house hunting even better. Today, we're excited to officially introduce the new iOS 7-enhanced design and features for Zillow Real Estate apps for iPhone, iPad and iPod touch.
Channeling Apple's new iOS 7 design elements and style, Zillow's new apps allow home shoppers to treat searching for a home more like reading a magazine. Large photos and basic facts are brought to the forefront, so home shoppers can instantly decide whether they want to find out more information or move on to the next home, almost like judging a book by its cover. Specifically, home shoppers who update their Zillow app will see:
A new photo-driven shopping experience that allows home shoppers to slide through preview photos of their search results without leaving the map.
On iPad, a redesigned, interactive and full-screen listing page that allows shoppers to swipe through a full gallery of beautiful photos, just like turning the pages of a magazine.
iOS 7's design principles reflected throughout the entire interface of the app, including new home icons, font choices and more.
Zillow's updated apps are available for free to download from your iPhone, iPad or iPod touch, or by visiting the AppStore. They're available for any device running iOS 7, including Apple's new iPhone 5S and iPhone 5C devices.
Don't have an Apple phone or tablet? Zillow operates the most popular suite of real estate apps across all major platforms. Visit zillow.com/mobile to check out Zillow's full set of apps for home buying, selling, renting, financing and remodeling.
Video by: Triangle Summer