Amy's Take: Episode 4 of 'American Dream Builders'

Amy Bohutinsky is Zillow's chief marketing officer. As part of Zillow's partnership with NBC's new home improvement show, American Dream Builders, Amy has an inside look at the show and its designers. She also makes a few guest appearances as neighborhood council judge and mentor this season. Each week, Amy will give her take on that week's episode in "Amy's Take."

Episode 4 of NBC's "American Dream Builders" takes us into the mountain wilderness of Big Bear, California — a far cry from the balmy urban neighborhoods and city-sized home plots we've seen thus far on the show. It's also a far cry from many of these designers' comfort zones. Case in point — Vanessa, the New York City-based designer who admits she's not too comfortable in the woods, or in the "rustic" facet of design. More on her bedroom design later.
The designers' challenge this week: Rehab a set of 100+ year-old cabins used as retreats for two large families. These homes have been passed down from generation to generation, and hold many memories for each family. But they also hold their share of dusty-old-cabin woes — case in point, the mice problem faced by Team Red. Or as one of my favorite quotable designers, Dann, put it upon seeing the wasteland of carcasses behind a wall: "The bodies were stacked up — it was like mousy Armageddon!" Love you, Dann.
Goals for each team
On a high from their first team win in the last episode, Team Red attacked their challenge with their usual big ambition. Dann headed the team as site manager this week, and seemed to really embrace his role of creating cohesion across all the designers' work. Their goals this week were to create more sleeping space for the 7+ family members who often stay there, modernize the extremely outdated (and mice-infested) kitchen, and unify the cabins with an exterior color scheme. Dann took this last goal to heart when he chose an ambitious and, it turned out, polarizing color of green.
On Team Blue, Darren (aka "Eco-MacGyver") not only tackled his first interior project of the series, but this was his first time in a leadership position as site manager. In addition to the aged and dated issues facing both cabins, Team Blue had an additional challenge of making their cabin ADA accessible for the family's matriarch who is in a wheelchair. Great design has to be functional, and this team had their work cut out for them.
What worked for each team:
I'm going to jump on the "loved it" side of Dann's green exterior for Team Red. Described variously as "guacamole" (Vanessa), "frog" (Lukas) and "terrifying" (show host and judge Nate Berkus), in the end I think it looked really cool, especially in the natural surroundings of various deeper shades of green, and with contrasting red/browns of the door, porch and woods. Not traditional, not authentic to the cabin's 100-year-old history, but cool. This is a vacation cabin, and vacations are supposed to be fun and carefree. Dann took a huge risk here and I loved it.
Everything Lukas touched for Team Red. Lukas's cabin room was awesome — calm and serene, it modernized the cabin while staying a bit true to the roots. And the painted-branch light fixture was genius. Equally, Lukas's kitchen struck a great balance between contemporary design and cabin colors. The "bad boy of design" demonstrated his versatility and chops beyond the ultra-modern black/white schemes he's primarily done to date.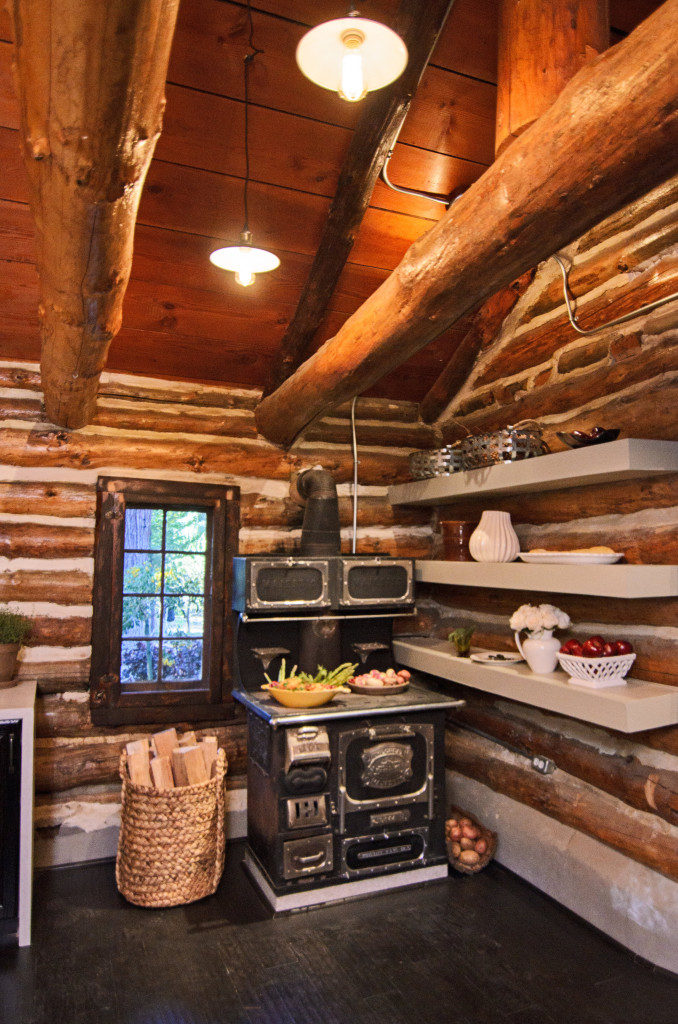 Darren's kitchen and Nina's living room for Team Blue. Darren had something to prove this week, after only tending to outdoor spaces and landscaping to date. And he proved it — he designed a beautiful, genre-appropriate kitchen, and one that's ADA-accessible to boot. And Nina's design echoed her successes in prior weeks — layers of contrasts, patterns and beautiful details that just work.
Jay's landscaping for Team Blue. Jay's been catching a lot of flak from his teammates for being a builder, not a designer. But two episodes in a row now, he's proved his doubters wrong by creating great curb appeal on both homes (love the red doors this week and accompanying red tree swing!). From a real estate point of view, where curb appeal rules, Jay is winning.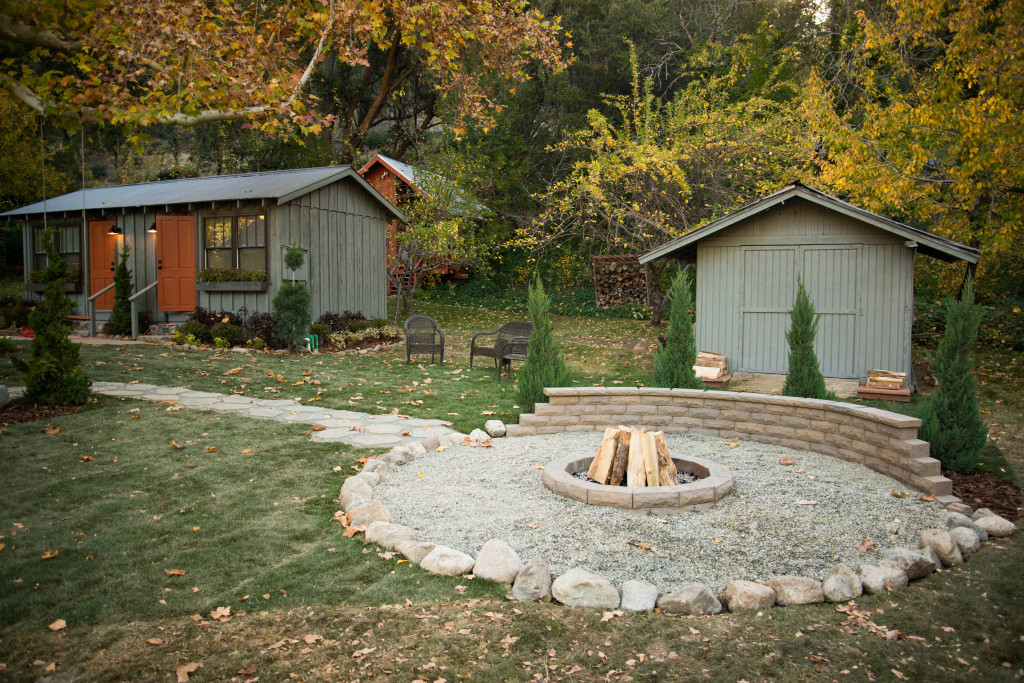 Things that didn't work:
Team Blue's tree-as-sculpture in the dining room. This was Nina's idea, but she needed Elaine's buy-in, since they worked on the living and dining space. While it sounded good in spirit, it didn't work out the way they had planned. More importantly, we're talking about a relatively small dining room for a family that regularly hosts dinners for 7+ people, including multiple children running around who could smack into branches. Ouch. Also, the trees took up too much space!  It felt like a waste of design when livability and entertaining is a premium in this home. And the zebra-print chairs were simply out of place in the woods — it's a forest, not a zoo.
Andrew's guest room for Team Blue. He had me doubting the color scheme of "cream, pink, and brown," which he described as his attempt to appeal to both the masculine and feminine guests who will stay there. Reminds me of when I try to get my two kids (boy and girl) to agree on watching the same TV show. It never really works and someone is ultimately unhappy.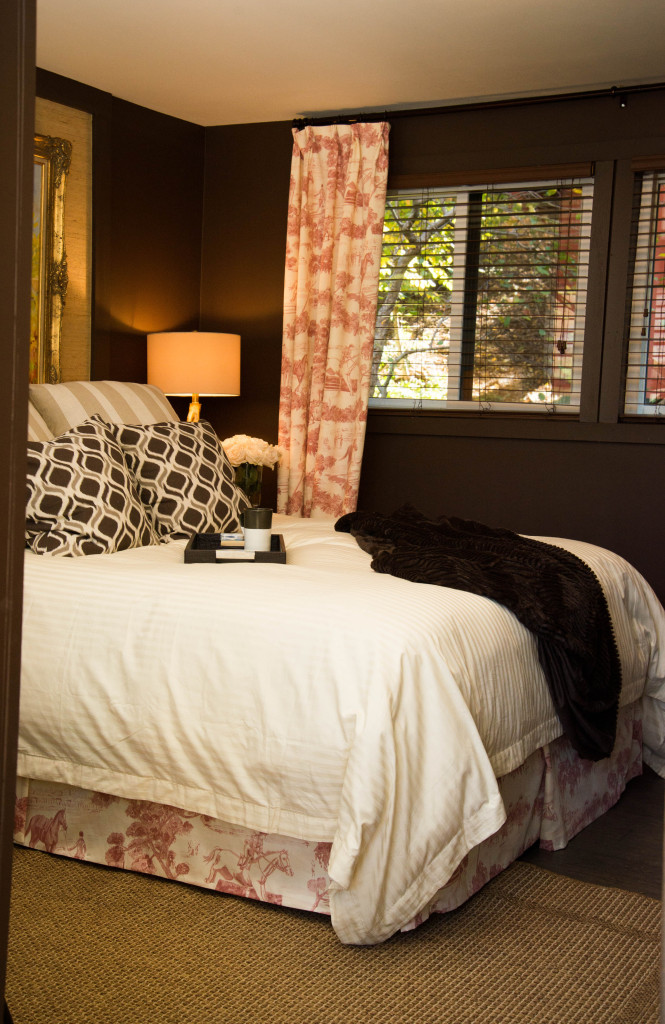 Vanessa's bedroom design for Team Red. Vanessa tackled a first I've never heard of before — remove a window with a water view? She wanted it to feel more cozy, but it left a small, cramped bedroom feeling even smaller. That, plus the overall design choices she made didn't work for me.
So, did the best team this week win? From my point of view, yes — I think the neighborhood council was right in giving the win to Team Red. After a shaky start the first few weeks, they've become more consistent as a team, and Lukas and Dann keep knocking it out of the park with the majority of what they touch. And while Team Blue had some really beautiful design achievements by Jay, Darren and Nina, Andrew's bedroom just didn't work on a couple of levels.
Having fun yet? I am! I can't believe we're already on to Week 5.
I'll be back with more next week!
Related: