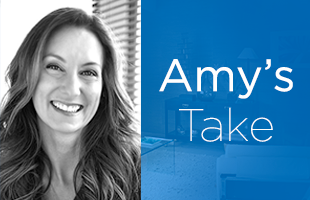 Amy Bohutinsky is Zillow's chief marketing officer. As part of Zillow's partnership with NBC's new home improvement show, American Dream Builders, Amy has an inside look at the show and its designers. She also makes a few guest appearances as neighborhood council judge and mentor this season. Each week, Amy will give her take on that week's episode in "Amy's Take."

And the fun continues! Last week, the "American Dream Builders" contestants were sent to Big Bear, CA to invigorate 100-year-old cabins and this week they were tasked with infusing design and function into modular homes with a smallish footprint. That's right – factory-built modular homes (read: rectangular, plain, small boxes) that will be eventually transported to a family campground on the California coast.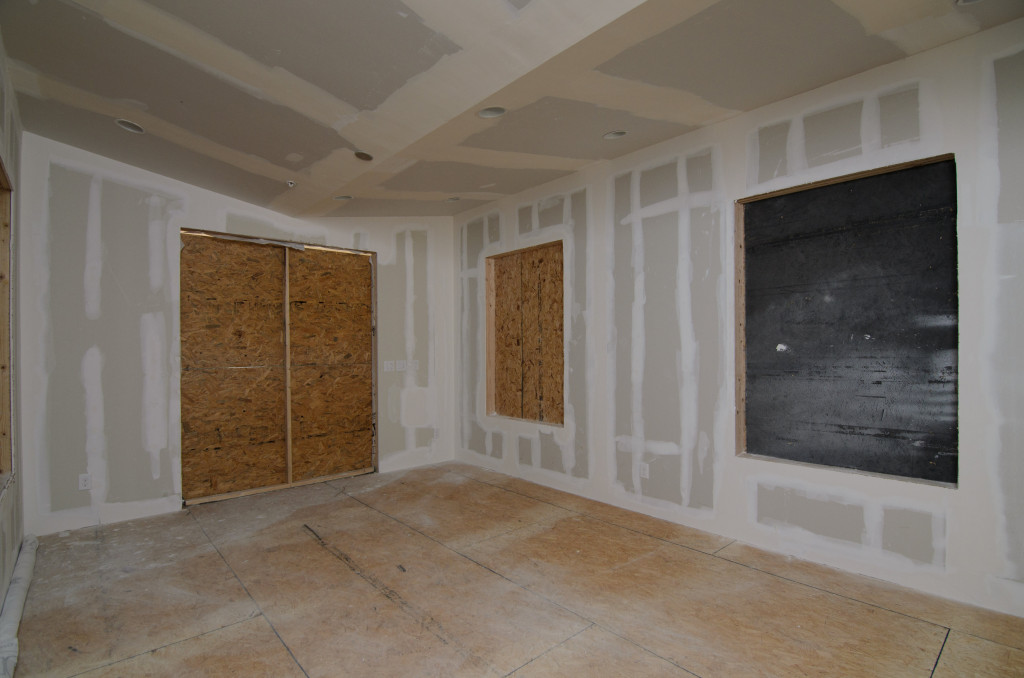 So, not only is the architectural style of modular homes a challenge (if you can call modular a style), but to add some drama, the eight remaining designers were randomly paired off into teams of two and given just three days to fully design and outfit the interior and exterior of each home. Let the games begin!
Each team's style
Jay and Nina decided to do "Park Avenue," Erinn and Lukas chose a "Modern Cottage" concept, Dann and Vanessa labeled theirs "DIY style" and … drumroll … Elaine and Darren, who fought like cats and dogs last week, chose "Malibu-Beach-Shack-Goes-Upper-East-Side."
Starting from the exact same plain, rectangular palette, the designers had their work cut out for them.
Elaine and Darren: Matching Elaine and Darren together had all the makings of pairing gasoline with a match, but the two got along remarkably well – maybe because they only had to do it for three days. Their goals were to downsize the kitchen area to make living room larger and more inviting and to create a screen — or a shoji door — to the bedroom entryway.
Vanessa and Dann: This pairing seemed more benign than electric. Dann — who I love for his design style and quirky quotability — was apprehensive about being paired with Vanessa, as their design styles haven't quite aligned to date. Their goals were a sitting area on the porch and a focus on DIY design. More on that later.
Jay and Nina: Ah, Jay the General — the big thinker who is knocked for being "just a builder" — gets matched with Nina's high-end fashion style and they choose "Park Avenue Luxury." Quickly, Nina is thinking furniture placement, but Jay feels she gets thrown by "analysis paralysis" and is her own worst enemy in a three-day build. Their goals are to add depth and interest by adding moldings on the walls and pediments above windows, with dark cabinets in the kitchen and dark flooring for an elegant feel.
Lukas and Erinn: Two of the most talented (and well-aligned) designers on the show, these were the ones to watch. Erinn feels thankful to have Lukas as her partner, no cross words are ever exchanged (unless they are on the editing room floor) and they seem to see eye-to-eye on everything. They choose a "modern cottage concept" with goals to have open shelving in kitchen and bath and a daybed to create a lounge area in the hallway, connecting kitchen to living space. I was initially really apprehensive of the daybed idea — why in such a small space? But …
What worked for each team:
Lukas and Erinn: The floating, open shelving in the kitchen and bathroom and the modern, low daybed totally worked. Lukas knew that having cabinets lining the kitchen walls would feel claustrophobic, so he smartly put up open shelving and utilized a similar open concept in the bathroom. It looked great. Also, Erinn's daybed created a sophisticated lounging space.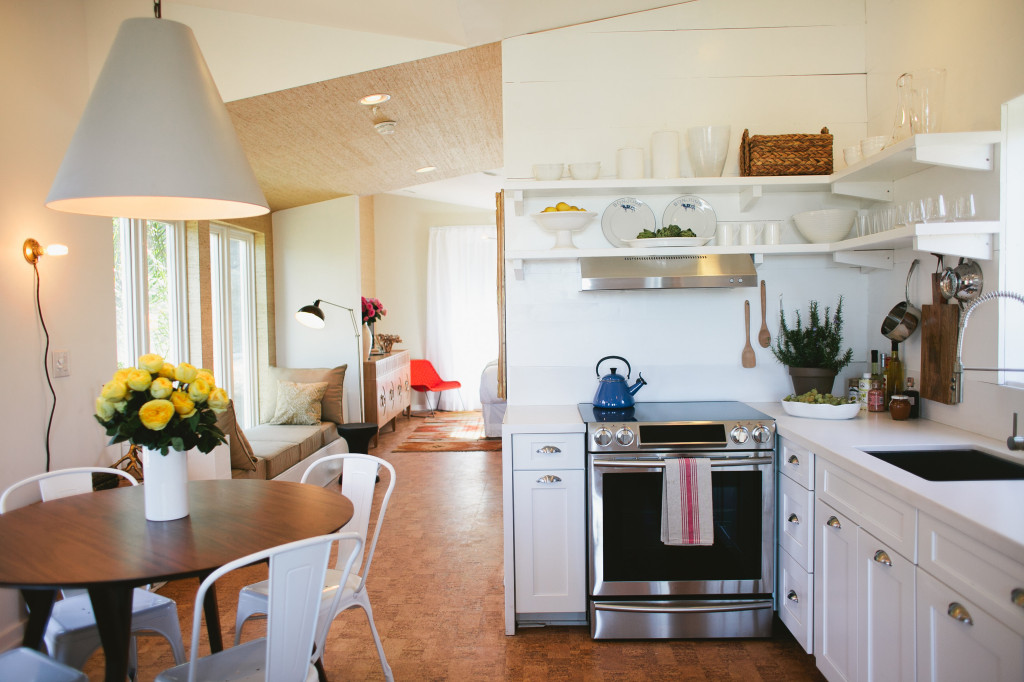 Jay and Nina: What can I say about Jay? Everyone initially underestimates him, but this guy is starting to build a solid batting average. His idea for molding on the walls and windows created elegance and sophistication to a drab, plain rectangular space. The dark cabinets also added to the look. And extra credit to the General who not only sewed pillows, but found a YouTube video to teach him how. He is Mr. Determined.
Elaine and Darren: By eliminating a cabinet in the kitchen and moving the fridge over, they created more living space, which was huge. Also, Darren's shoji door helped break up the long, shotgun space and provide a little privacy to the back of the house, which no other team attempted. So smart. And, this home had the best curb appeal by far, led by "Eco-MacGyver" Darren. You know I love curb appeal!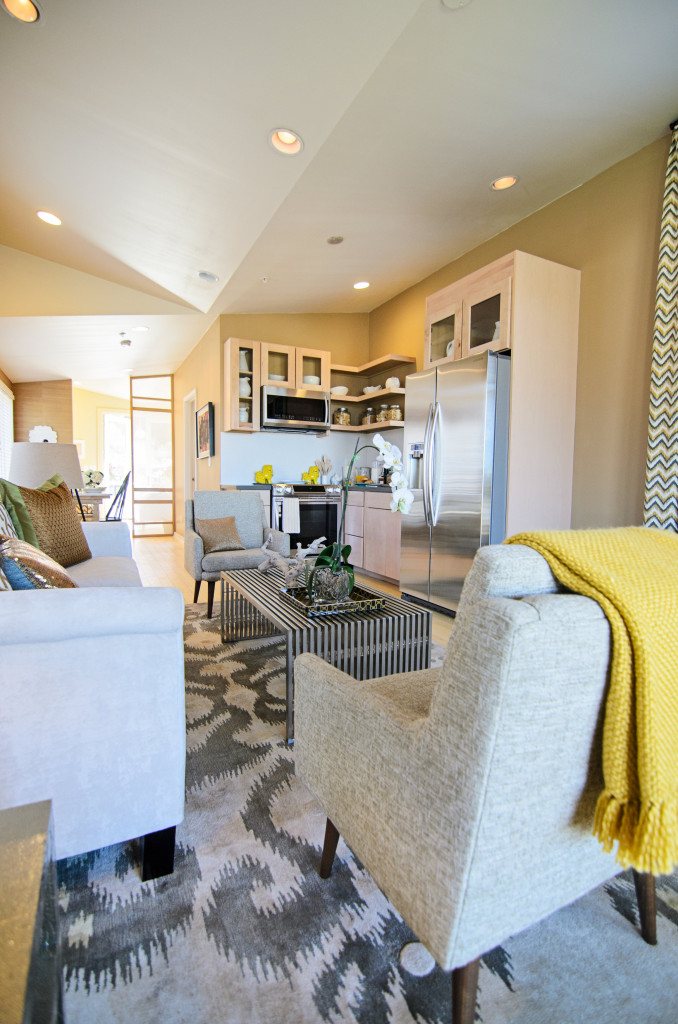 Dann and Vanessa: Dann's grass-cloth wallpaper in the bedroom that was applied in a grid-like pattern was awesome. I want that in my home! It added texture and interest to the walls.
Things that didn't work:
Lukas and Erinn's exterior landscaping. The judges panned it, and I can see why – the plants just seemed plopped down without much feeling for placement. Maybe they ran out of time, but still …
Nina's furniture placement. Nate called it horrific; that felt a little extreme, but it definitely was awkward. The sofa was too big and faced a wall. And the space, butting right up to the kitchen refrigerator, was tight and chopped up.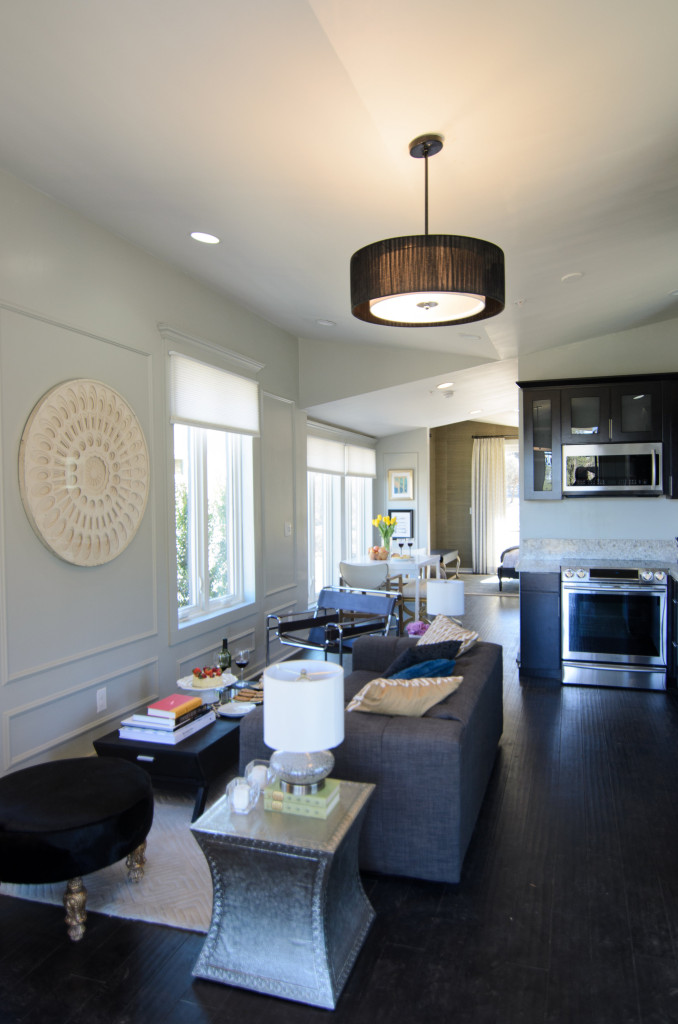 Vanessa's porch chandelier. Yeah, that will play well on the California coast when a storm rolls in. I know chandeliers are very trendy right now and they are appearing in every room imaginable, but on the porch of a modular home? Weird. Also, I felt their design was very disjointed, with more misses than wins. The living room just felt like a haphazard, hot mess. Plus, taking up the valuable eating space with a desk was not a good use of space in my mind.
In the end, Elaine and Darren won "by a landslide" with the neighborhood council. The combination of curb appeal, more living space and consistent "wins" in each room put them above the other teams. I was also really pleased to see Lukas and Erinn saved from elimination, as their daybed, kitchen and small touches like the living room wall texture were all standouts.
With this spate of modular homes behind us, I'm excited to see homes with a bit more character and diversity next week. See you then!
Related: