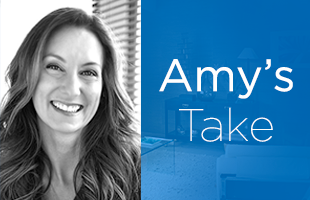 Amy Bohutinsky is Zillow's chief marketing officer. As part of Zillow's partnership with NBC's new home improvement show, American Dream Builders, Amy has an inside look at the show and its designers. She also makes a few guest appearances as neighborhood council judge and mentor this season. Each week, Amy will give her take on that week's episode in "Amy's Take."

One of the most fun things about American Dream Builders is when the show hits close to home (pun intended). We've all struggled with similar challenges to the families on this show — whether we need more space, a new kitchen or simply some cool design tips. Or, we may have remodeled or lived in similar homes ourselves.
Before my husband and I remodeled our current mid-century modern home in Seattle, we lived in a 100-year-old Craftsman home in the city's historic Green Lake neighborhood. We faced a lot of the living challenges borne by these families at the start of the episode. Craftsman homes — while they are charming and broadly appealing — were often built at the start of the last century, which means they have a:
Lack of storage space in bedrooms. In our old home, my daughter's nursery did not have a closet. And our master closet could only fit about half of my clothes, which booted my husband's stash to the guest room and my non-seasonal clothes to the basement. Not ideal.
Lack of storage space overall. What's a pantry? Or a mud room? Or a laundry room? Put those in the "didn't exist in 1910" category.
Small number of very small bathrooms. I always wondered why our old Craftsman had an uncharacteristic 3.5 bathrooms. Then I found the original architect's plans in public records, and it turned out the master bath had once been a "sewing room." Lucky for me, that had been changed.
So, the designers this week had their work cut out for them, and I was excited to watch.
Team Red
Designing for a single mom and her son, Team Red needed to focus on creating a better work space for the Campbell family's food-writer mom, which meant expanding the kitchen for more counter space and better flow. Erinn led the team and took on the kitchen, as well as the son's bedroom — making the controversial decision to make the son's room look older and more broadly appealing.
Dann took on the living space and master bedroom, and vowed to show the judges that Team Red's massive talent isn't just on the Lukas-and-Erinn side. And Lukas tackled the dining room and exterior of the home, which was no easy task. This home massively lacked curb appeal, with overgrown shrubbery and a dilapidated exterior.
Team Blue
This team was tasked with helping the young Cohen family with twin girls live better in their small, 912-square-foot home. Luckily, the home had a large back yard, and the team was able to add on an additional 400-ish square feet in the form of an airy gym for the family's dad, who is a personal trainer.
No surprise, Darren took on the gym (and provided us with numerous gratuitous pull-up, push-up and shirt-off moments). I appreciate NBC's attempts to fit in some eye candy before the final reveal. Darren also took on the twin girls' room, which was personal for him since he has a young daughter.
Nina led the team and tackled the kitchen and dining room, Elaine designed the master bedroom and living room, and Jay once again owned the exterior and curb appeal of the house. Jay also held the "human" card for this episode, when we saw him tear up when talking about missing his wife and five young boys. It was sweet to see this side of the regularly hard-driving General.
What worked for me:
Erinn's kitchen for Team Red. It felt calm and spacious, with tons of light. The added desk will work great for the home's working mom. The judges and neighborhood council loved it and so did I … but I just had one nit about the marble backsplash to the stove. More on that below.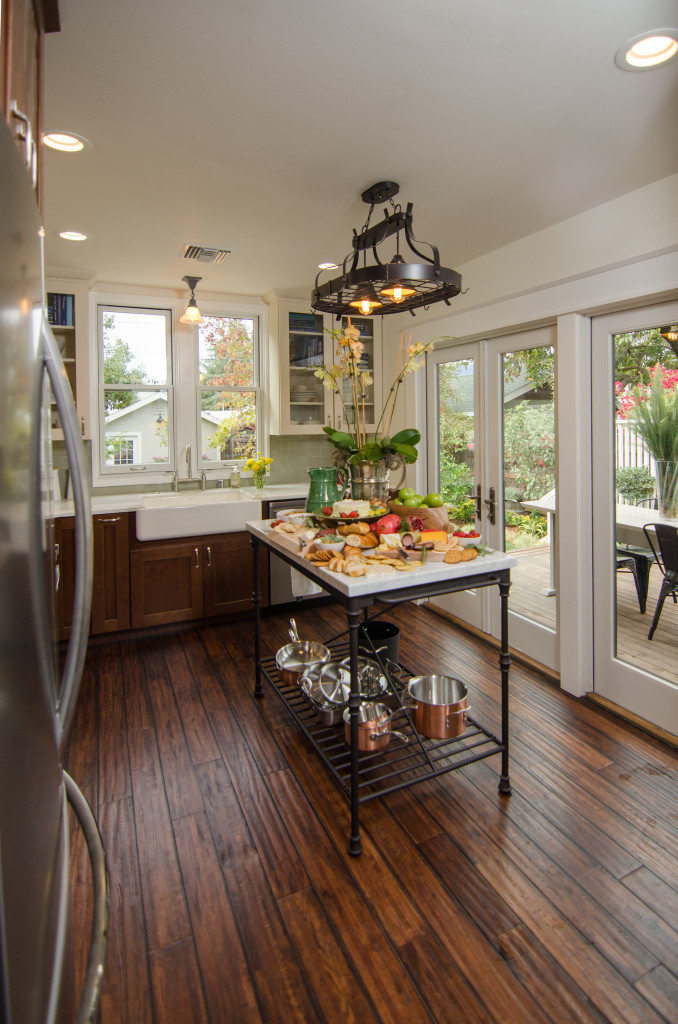 Both teams' curb appeal. Wow on Team Red. Lukas took this house from worst to best. This will make such a difference the next time this home is sold. And Jay's addition of tapered columns on Team Blue stayed true to the Craftsman style while adding a modern clean-up.
Team Red's living room. Once again, Dann earned his nickname, the "Dannimal." Beautiful, approachable, and a fun and unique furniture arrangement.
Darren's detached exercise room for Team Blue. It met the family's goal for having a workspace for dad, and he did it in an airy, modern way that didn't detract from the home's Craftsman style next door. Plus it provided all of those gratuitous workout shots.
What didn't work:
Erinn's marble backsplash on the stove for Team Red. It looked great, but I cringed at the idea of "marble." Marble is a soft, reactive surface that stains easily with anything acidic, like juice, vegetables, vinegar or wine. As a mom of two young kids, I can't count the number of times I forget I have things on the stove and have mini-explosions of fun items like tomato sauce. Stain-central if you don't get it off immediately. Maybe, hopefully, they treated it in some way? I'd like to know.
Erinn's room for the young boy in Team Red's home. It looked adult and not fun.
The weird tiny TV room in Team Red's home (next to the living room) that Dann worked on. The TV didn't fit and the couch wasn't placed in a way you could watch it. In general, not well-thought-out.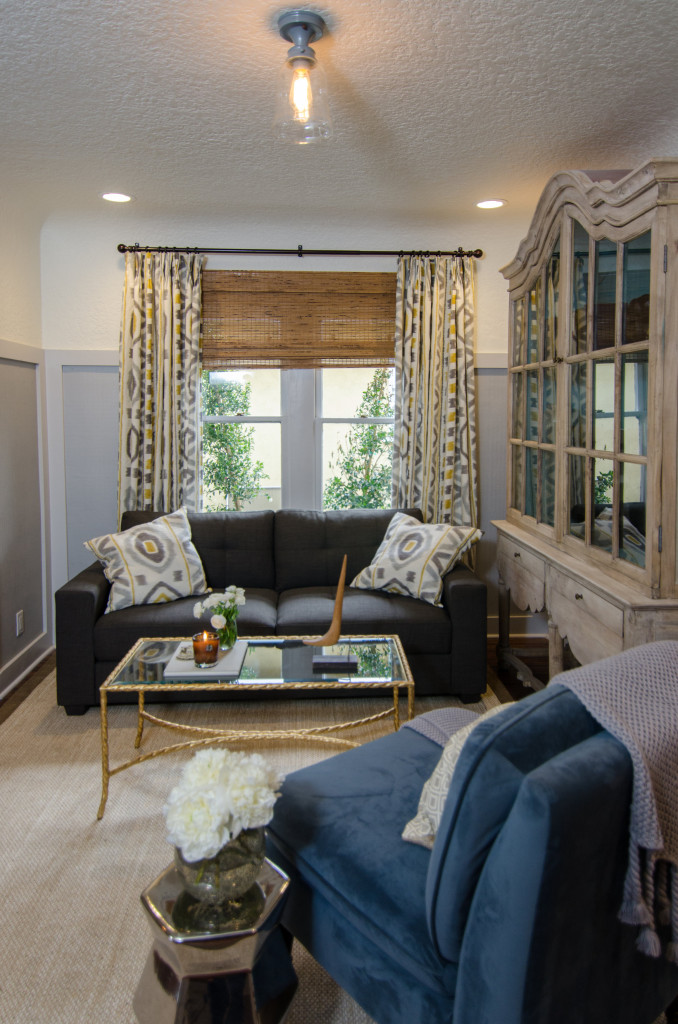 Elaine's master bedroom for Team Blue. A rare miss for Elaine, judge Nate Berkus said. He was "literally bored to tears." I second that yawn.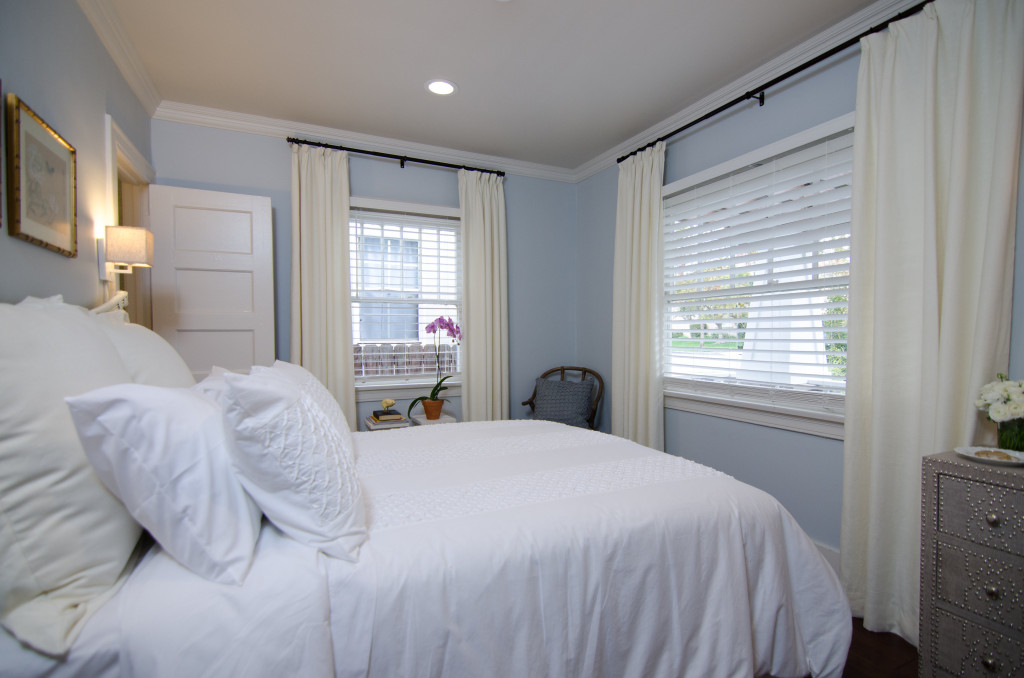 Elaine's living room for the Team Blue. Judges Nate, Monica and Eddie felt it was too much, with the patterned ceiling and multiple colors and textures around the room. But the neighborhood council seemed to like it. Polarizing, for sure — but I'm going to side with the judges on this one. It was a small room already, and all those patterns and contrasts made it feel even more cramped to me.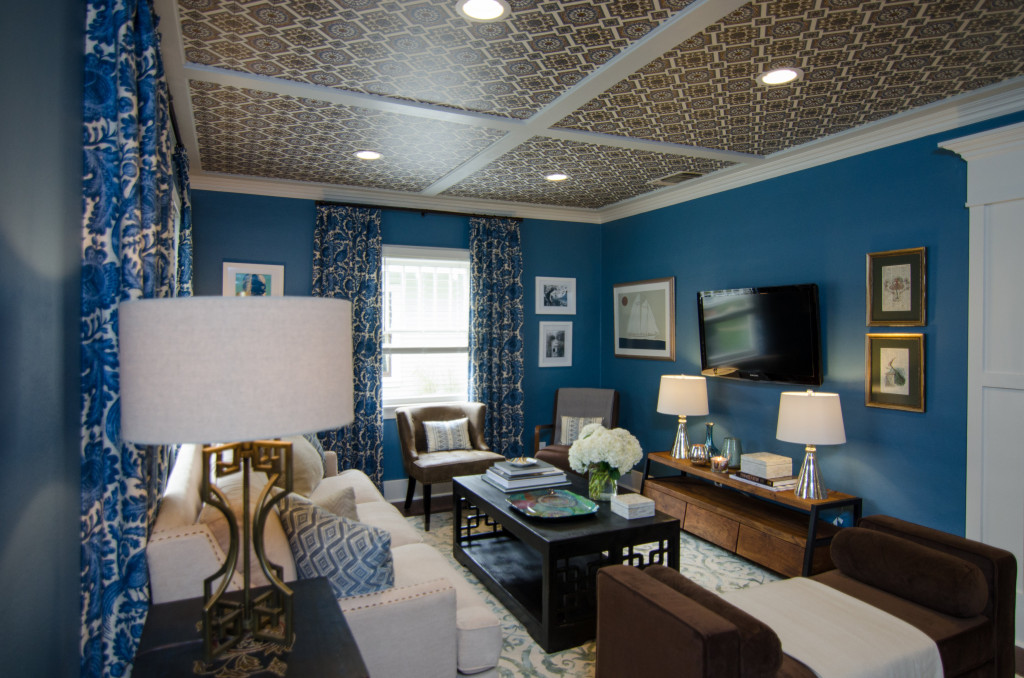 Another great week, and in my mind, one of the toughest judging weeks to date. Both teams had their triumphs and failures, and no one person stood out as the right one to leave. Unfortunately, Erinn had to go this week, which was a shame, because she's certainly churned out some of the better designs in the competition to date.
See you next week!
Related: