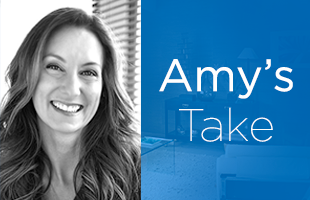 Amy Bohutinsky is Zillow's chief marketing officer. As part of Zillow's partnership with NBC's new home improvement show, American Dream Builders, Amy has an inside look at the show and its designers. She also makes a few guest appearances as neighborhood council judge and mentor. Each week, Amy will give her take on that week's episode in "Amy's Take."

This was my second appearance on the show and I was eager to see how the final four contestants would "fix" a poorly-proportioned Victorian-style house that was built in the 80s and is home to a family with three young girls.
My role was to mentor and coach the contestants on how to add more value to the home for the family. This is their largest investment, so the competitors' goal was not only to create livable spaces for today, but value for tomorrow. Victorians typically sell very well — when modernized for the way families live today (while retaining the home's original and distinctive Victorian charm). The designers had the opportunity to add massive value to this home.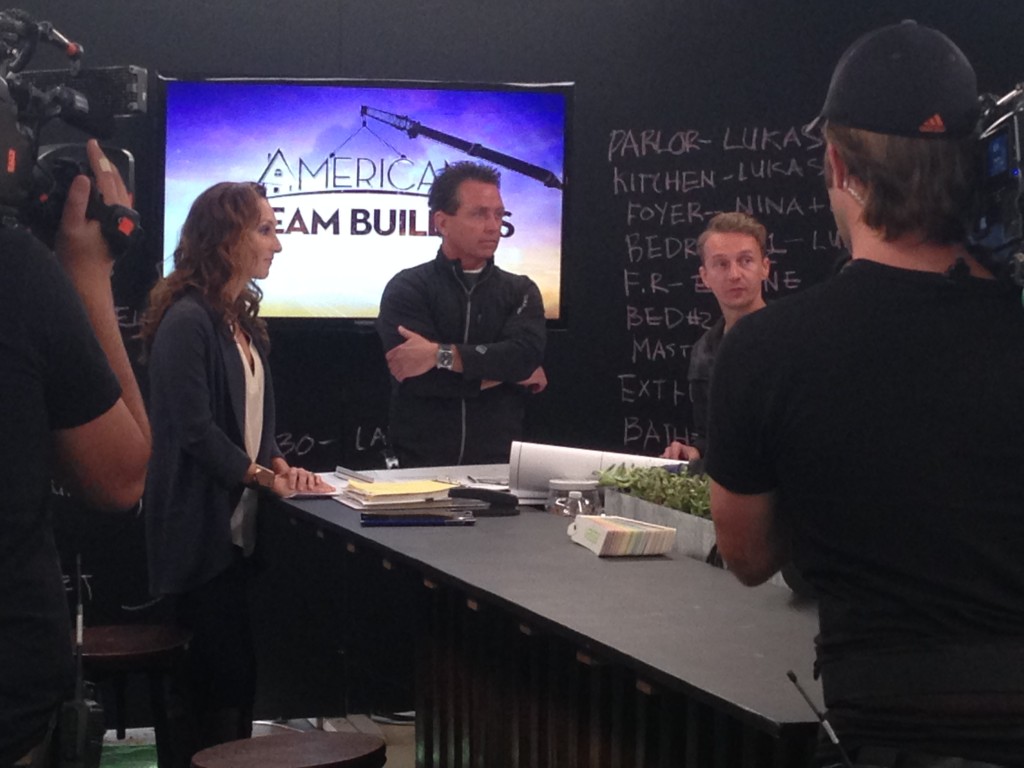 This time around, the remaining contestants were on their own — no teams, no partnering, no reliance on someone else. They were all going solo to design assigned rooms of the house.
Lukas, who turns everything he touches to gold, took on the kitchen, front parlor and a guest bedroom. Elaine was assigned the family room and a bedroom for two girls to share. Nina had the dining room and nursery, and Jay took on the master suite and bathroom.
Things that worked:
Lukas' kitchen. Once again, Lukas delivered a beautiful and ambitious kitchen design. He made a center island big enough to be functional for cooking, but also for eating. His white uppers and black lower cabinet combo was smart and sophisticated. Plus, I loved the tin ceiling and bold, high-strung light fixtures. As Jay said about Lukas' kitchen design abilities, "You're so good at it." And he is!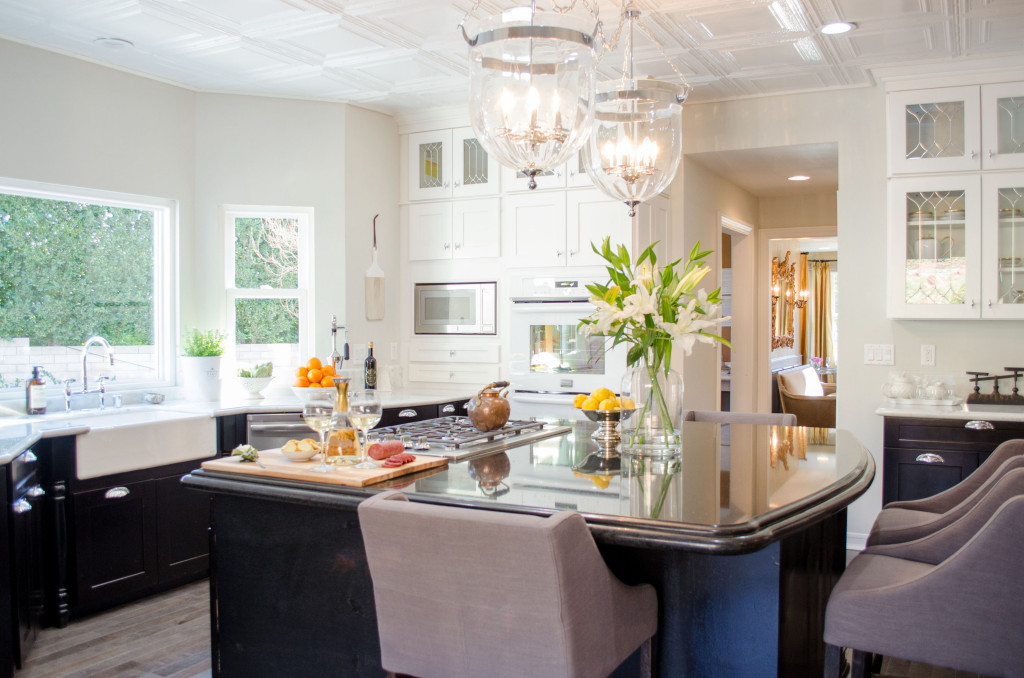 Lukas' guest bedroom. He painted a 24k gold leaf tree on the back wall to "create an illusion of space looking bigger." Umm, that's some serious ambition and he pulled it off! Lukas does not disappoint.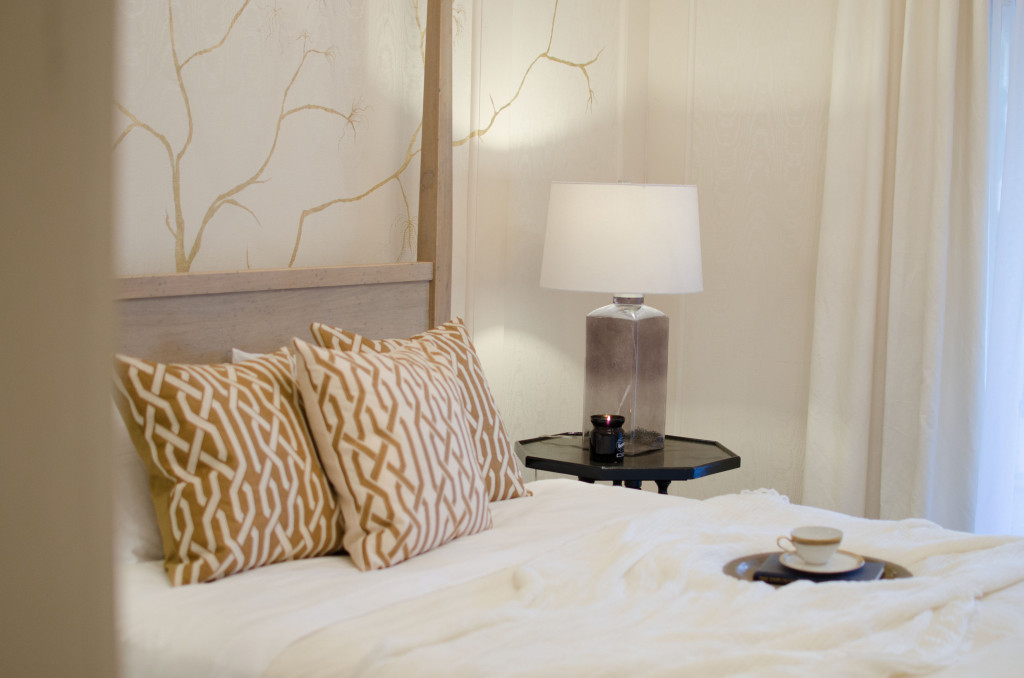 Jay's master suite (bedroom + bath). In the words of Nate, "He did it!" Jay created a beautiful, appropriate style with a "his and hers" area (that sells really well, by the way). I love the bath area and huge shower that was extended by two feet. He created a beautiful oasis for tired parents at the end of the day and included gorgeous features like a brand-new claw-foot tub and inlaid tile patterns on floor.
Jay's bedroom. I wasn't crazy about the fabric stage-like curtain behind the bed's headboard, but I did really like the molding and pediment head above the bed. Overall, the bedroom turned out to be a well-designed space.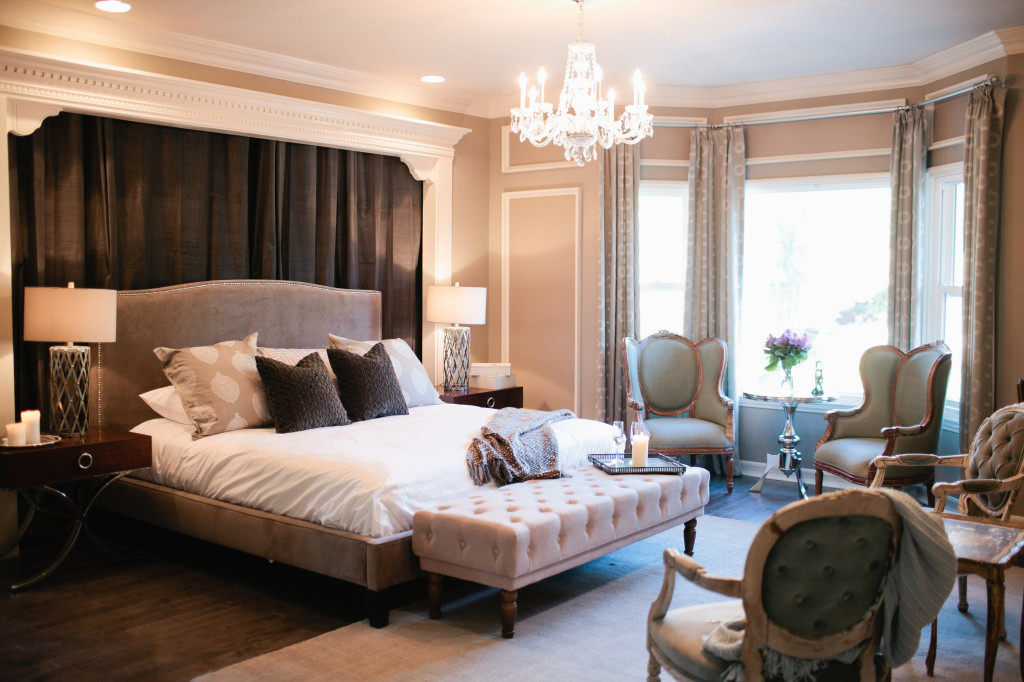 Elaine's family room, at first. One thing Elaine got right in the family room was to demolish the bar (not what the family needs today!) to create more space. But, her color and furniture choices for the room were a fail. See my comments under "Things that didn't work" below.
Elaine's girls' bedroom. Cute and fun. Loved the cheery yellow paint and nice features like the chalkboard wall and two little nightlights near the bunks.
Things that didn't work:
Lukas' parlor room. I may be the lone voice on this one, but it didn't work for me and here's why: Three little girls live in this home, and the family specifically asked for more usable space. It was formal, crowded with sharp-edged furniture and had an open fireplace. As a mom it screams "burns, cuts and bruises!" It was a gorgeously-appointed room, worthy of a magazine spread, but it belonged in a designer home tour, not a functional family house.
Elaine's family room. She insisted on covering the family room walls in red wallpaper, despite everyone imploring her not to. Usually her stubborn vision works — often spectacularly — but this week it was a crash-and-burn. It felt out of place from the neutral, earthy palette of the rest of the rooms. And for an area that's supposed to be the family's core living area, the couch was way too small.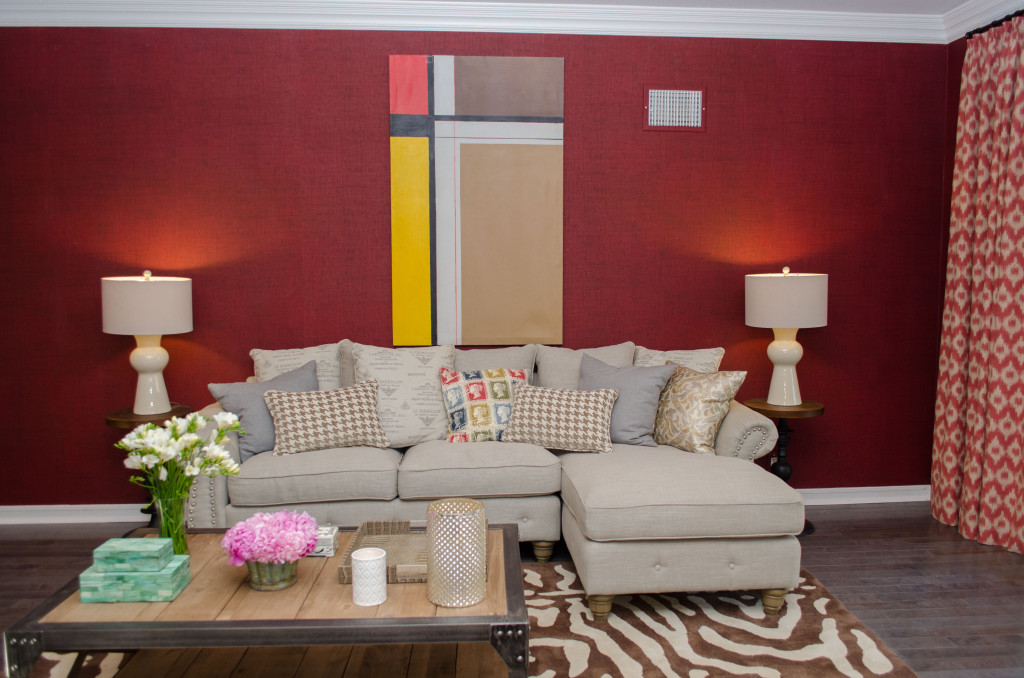 Nina's dining room. The glass table top was another ouch moment for me. Too formal for this family, and again (sorry, kidless people), too many eye-level sharp edges on that glass dining table. Great design needs to be livable and functional.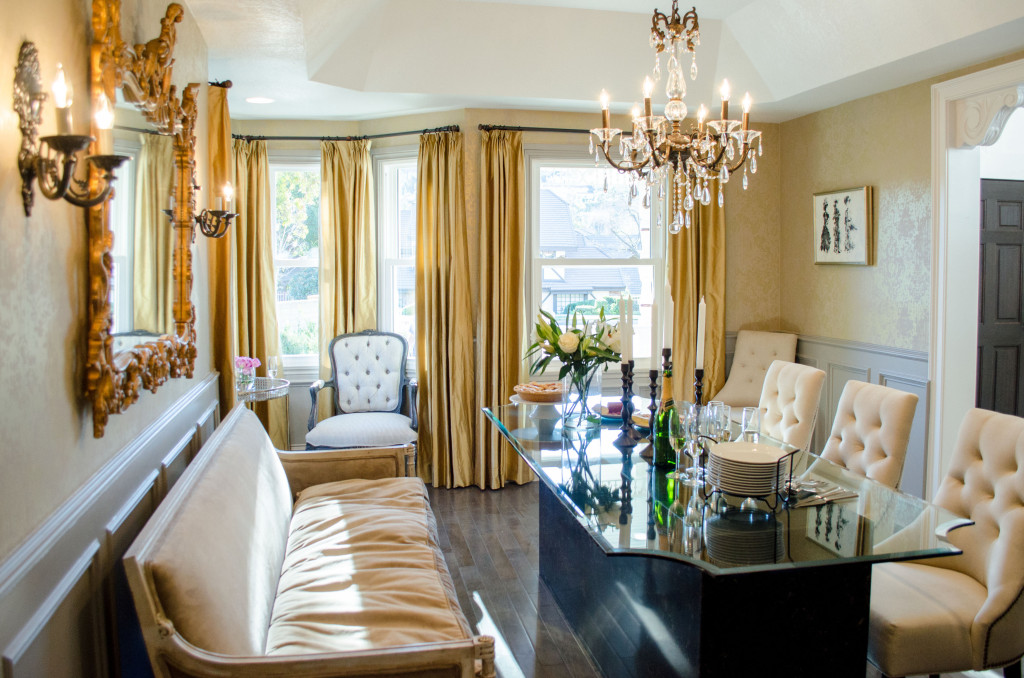 Did the contestants achieve the goals I gave them to add more value to the home? Absolutely — the more open living room, the luxe kitchen and master suite and the modern palette all combine to significantly increase the resale value of this home. We estimated a home value increase of more than 40 percent from this week's worth of redesign.
That said, I was disappointed overall in the "livability" factor for this family, specifically in the furniture choices in many of the rooms. Furniture can be changed, thankfully, but I would have liked to see the designers focus more on the family this week. It felt like their individual performances to win and "wow" may have gotten in the way.
Next week: The finale!! I'm very excited for this one, and not only because I get to join again on the Neighborhood Council. The finale battle between Lukas and Jay will be epic — and I can't wait to see who prevails!
Related: