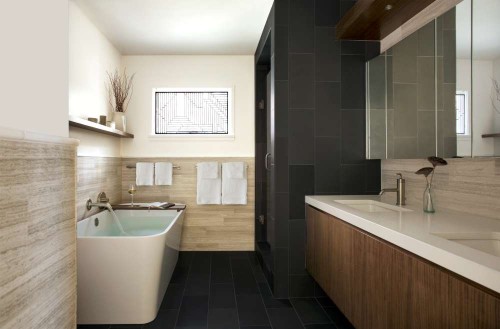 Sometimes the purpose of a renovation is to bring a room back to its former glory. Such was the case of a bathroom remodel in a 1950s home. The house was originally envisioned by Walter Gropius of Architect's Collaborative, an American architectural firm inspired by the modernism movement. Gropius, in particular, is well known for starting Bauhaus, the German "School of Building," which operated in between World Wars, cementing Grobius as a leader in modernist architecture.
Before
When S + H Construction and Zero Energy Design were tasked with renovating the bathroom, it was dark and dated. Their goal was not only to update the aesthetics and function of the room, but keep it true to "its utilitarian modern heritage."
After
The updated bathroom was expanded and all of its features were updated — from a deep, freestanding bathtub to a dark slate shower and double-sink vanity.
A few things were done to create the new room.
Combine unused space
An unused closet attached to the home office was incorporated into the new bathroom design, increasing the square footage.
Focus on simplicity
Most people aim for an orderly bathroom, but the design of this space went a step further for simplicity. The features of the bathroom are streamlined, from the flat fronts of the cabinets, to the sleek tile work throughout the room.
Add storage
The key to creating an uncluttered room is plenty of storage. Custom-made medicine cabinets hide pegboards which easily organize bathroom essentials.
Create a spa-like experience
Neutral colors and minimal furnishes create a soothing bathroom that offers an escape from the busyness of everyday life.
See more designs from S + H Construction.
Find more modern bathrooms on Digs.
Related: 
Erika Riggs, the Zillow Digs manager, covers home design and trends. Read more of her work here.