Bullets Included With This Ma Barker/FBI Shootout Home for Sale in Florida
Anyone interested in a hot real estate deal with a big bang factor?
And we do mean a really big bang — as in the scene of one of the most notorious shootouts this side of Bonnie and Clyde.
Then here it is: A marvelously museum-like home on the shores of Lake Weir where in 1935 the FBI surrounded a woman named Ma Barker and her gang and riddled them with bullets.
The shootout took place at what has been a family retreat at 13254 E Ocklawaha Highway, Ocklawaha, FL, 32179. The property was and continues to be owned by the Bradford family, who in 1934 were made an offer they could not refuse to rent the place to a woman and a man thought to be her husband.
The "couple" had told an Ocala real estate agent they needed a quiet place for rest and relaxation, but months later, the FBI tracked down Ma Barker and her son, Fred, at the secluded 4-bedroom, 2-bathroom rental and, without much hesitation, rained bullets on the pair who had been featured on the Most Wanted List for bank robbery, kidnapping and murder.
The Orlando Sentinel had a detailed write-up of the Jan. 16, 1935 melee that saw 2,000 rounds of bullets unloaded during the five-hour shootout. And a scrapbook on the Ma Barker House website contains fascinating memorabilia, including FBI memos (from J. Edgar Hoover) and photos of the home and dead criminals after the shootout.
The property, which includes two homes and a third parcel for a total of more than 9 acres and 340 feet of frontage of sandy Lake Weir, is for sale via auction. Bids are being accepted by Stirling Sotheby's through Oct. 5, with minimum offers of at least $1 million.
Amazingly, the home remains exactly as it was in 1935, except for some kitchen updates. Otherwise, everything remains frozen in time, from the furnishings to the bed where Ma Barker was shot to the bullets lodged in the walls and chairs.
According to listing agents Mark Arnold and Roger Soderstrom Jr., this is a one-of-a-kind property that could appeal to "history buffs who appreciate this rare bit of Americana." Said Soderstrom, who is listing it on behalf of one of 10 descendants of the original owner, Carson Bradford:
There's unbelievable interest around the world in crime memorabilia. People have never seen a property where everything is intact from the time of the event. We think the buyer could be someone who has a passion for crime memorabilia and who wants to build their own house [on the property] and keep this as a collector's house. It could be a bed-and-breakfast. You could have weddings there."
In 1974, the Bradford family built another 3-bedroom, 2-bathroom home on the second lot (also included in the sale) and kept the Ma Barker home for recreational use.
Re-enactments of the shootout were performed there, and the ghastly events have prompted a few to believe the lakeside home might be haunted.
Whether the ghosts are real is a matter of debate, but for a crime boss immortalized by Shelley Winters in "Bloody Mama" (trailer below), there's little doubt the dramatic history of the home is enough to make the hair on the back of your neck stand up.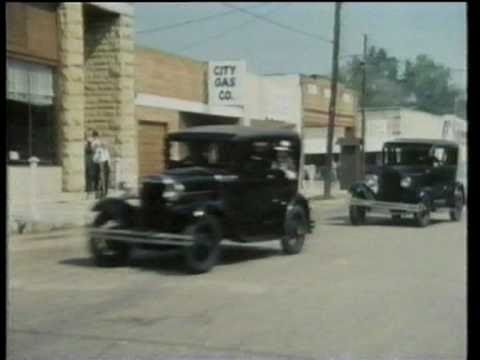 Related: