Chances are your '80s fitness video doesn't show Jane Fonda hiking by Santa Fe's Pecos River. And your "Tapestry" album cover doesn't show singer-songwriter Carole King taking a dip in Idaho's hot springs. But when the cameras stopped flashing, these famous women headed to the great outdoors for some old-fashioned peace and quiet.
In fact, for several celebrities, a piece of property with scenic views and acres for horseback riding is the ultimate home away from home. Here's a look at seven celeb ranches currently for sale in the United States.
Jane Fonda
Forked Lightning Ranch, Santa Fe, NM
For sale: $19.5 million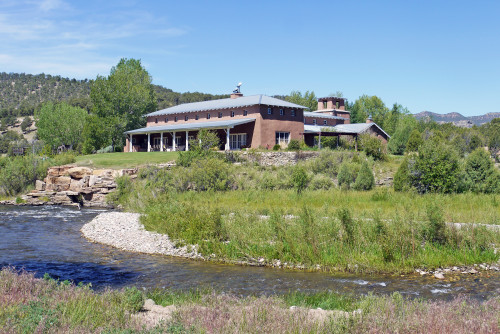 Photo courtesy of Swan Land Company.
When actress and fitness maven Jane Fonda purchased Forked Lighting Ranch in 2000, she spent two years hiking, camping and horseback riding across all 2,300 deeded acres until she found the perfect spot to build her personal sanctuary, the River House.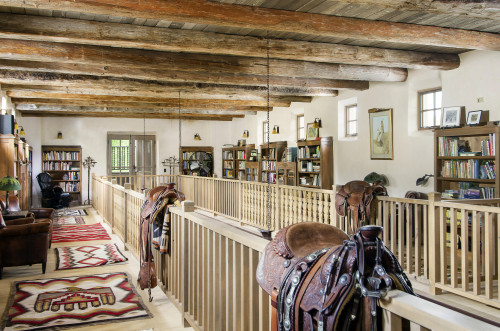 Photo courtesy of Swan Land Company.
Filled with Southwestern antiques, rugs, furniture and books, the River House blends with the existing ranch, which dates back to 1925 when iconic rodeo promoter Jon "Tex" Austin bought it from the Pecos Pueblo Grant. Today, the historic ranch includes Fonda's main residence, a 2-bedroom log house, guest "hacienda," gym and equestrian facility.
See more Santa Fe homes for sale.
Sheryl Crow
6664 Cross Keys Rd, College Grove, TN
For sale: $3.85 million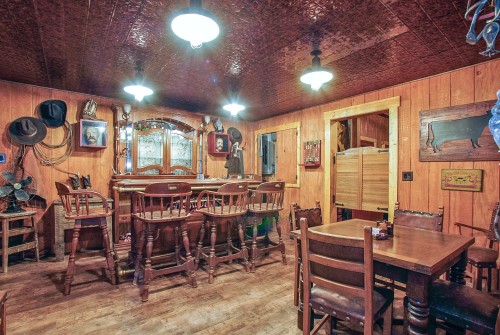 On the outside, Sheryl Crow's Tennessee ranch is stately and refined with a gated entrance, resort-quality pool and 51 green acres. Inside, however, the home shows off its country roots with a saloon-style bar and game room lined with cowboy hats, lassos and other Old West memorabilia.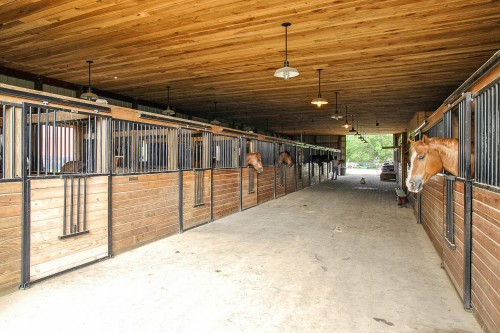 The country singer has been trying to sell the property since 2010, dropping the price from $7.5 million down to $3.85 million. The estate includes a 14-stall horse barn, indoor arena and guesthouse.
See more College Grove homes for sale.
Carole King
Robinson Bar Ranch, Stanley, ID 
For sale: $9.9 million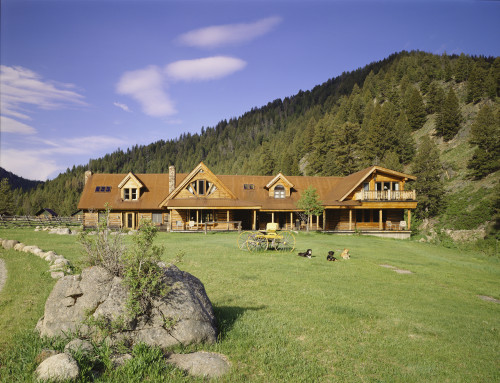 Photo by Mary E. Nichols.
Carole King makes several references to "home" in her song lyrics. But none compares to Robinson Bar Ranch, her 128-acre property at the northern reach of the Boulder-White Cloud Mountain Range. During a 2009 interview with Architectural Digest, the singer-songwriter said the home gave her the sense of being wrapped in a warm blanket of nature — more than any house she's owned.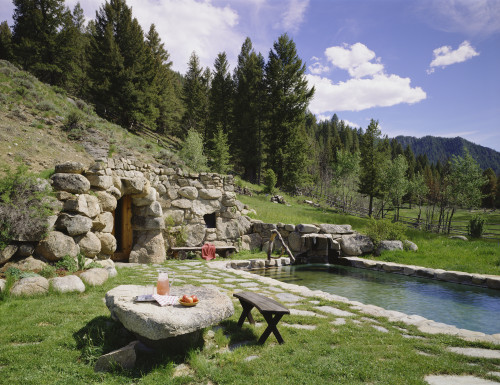 Photo by Mary E. Nichols.
In addition to private trails and panoramic mountain views, King's property includes a hot-water pool complex with a swimming pool, soaking pool and an indoor changing-and-shower room designed using native stone and geothermal hot springs. According to the listing description, the water is approximately 135 degrees at the springs' source and approximately 108 degrees in the pools.
See more Stanley homes for sale.
Randy Travis
12 Avenida De Rey, Santa Fe, NM
For sale: $14.7 million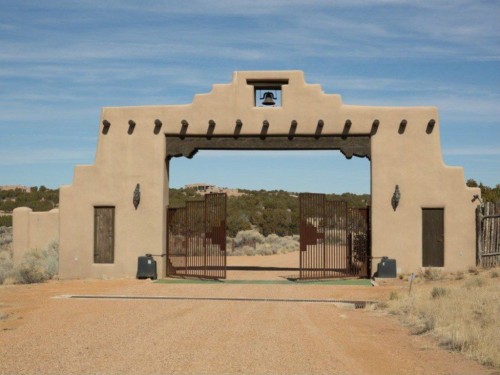 Don't let the dusty dirt road fool you. When Randy Travis bought this 220-acre parcel from New Mexico's former governor, he wasn't trying to rough it. The country singer and his ex, Elizabeth, turned the 5-bedroom, 7-bathroom estate into a luxury Southwestern retreat with 10 fireplaces, a bowling alley, shooting range, swimming pool and more.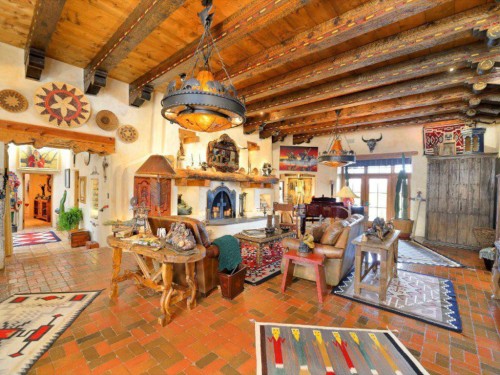 The interior is loaded with personal style, according to the listing agent. Hand-carved doors, stitched leather ceilings and tiled floors are just a few of the meticulous details added to the 2002-built home.
See more Santa Fe homes for sale.
Ron Popeil
5100 San Marcos Pass Rd, Santa Barbara, CA
For sale: $4.995 million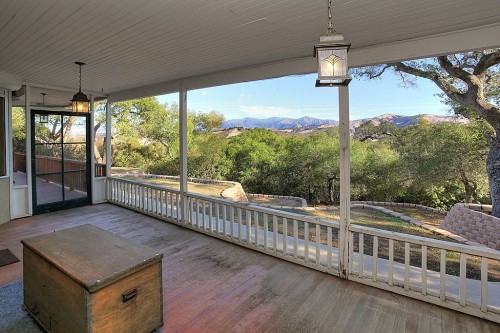 Ron Popeil, the charismatic "salesman of the century," is hoping the Rancho Quinta Ladera sells itself. With 150 acres of horse trails and 800 olive trees, the historic property offers a little piece of the Wild West just 15 minutes from downtown Santa Barbara.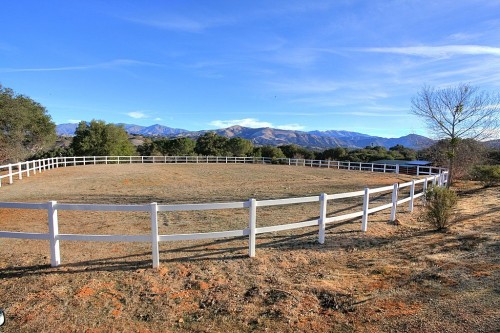 The adobe home was built in 1898 as a fishing lodge with the Santa Ynez River running past it. Then it became a gentleman's Western resort for hunting and fishing. Now the property is dotted with numerous outbuildings for equestrian enjoyment, including a 6-stall barn, feed room, two round pens and riding area.
See more Santa Barbara homes for sale.
Shirley MacLaine
Plaza Blanca Ranch, Abiquiu, NM
For sale: $18 million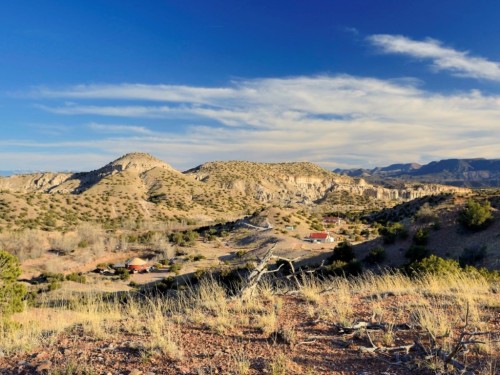 Shirley MacLaine was looking for a place to meditate and write when she discovered Abiquiu, a desert oasis about 53 miles north of Santa Fe. Over the years, the actress has hosted spiritual retreats and spent lots of time with her dog, Terry, at the Plaza Blanca Ranch.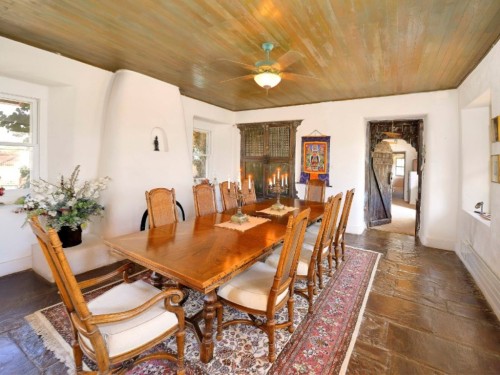 With greenhouses and a chicken coop on-site, the estate is "off the grid" and sustainable. The ranch is also adorned with mementos from MacLaine's acting career. The dining room table, for example, was the one used in the 1983 film "Terms of Endearment" starring MacLaine, Jack Nicholson and Danny DeVito.
See more Abiquiu homes for sale.
Wilford Brimley
Wyoming Horse Ranch, Greybull, WY
For sale: $1.25 million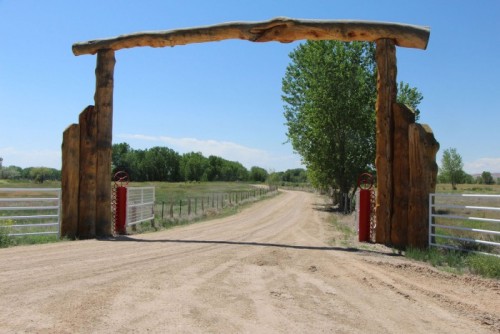 He may have played a stodgy old guy on screen, but Wilford Brimley is a laid-back Wyoming rancher in real life. The actor owns 276 acres at the foot of the Bighorn Mountains with access to thousands of acres of public land ideal for hunting, hiking and horseback riding.

"Immediately it becomes evident that the ranch is set to entertain and accommodate the horseman," the listing description states. With bucking chutes and roping boxes, the property has played host to several team-roping and rough-stock events, attracting the finest rodeo cowboys in the country.
See more Greybull homes for sale.
Related: