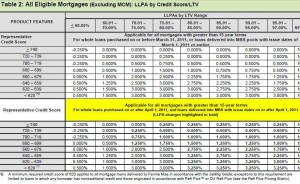 New Conventional mortgage changes on the horizon for 2011. In most cases, conventional loans will become more expensive come April 1st, 2011.  There will be pricing adjustments in the form of points and not to the rate. Now, the interest rates could actually change if the pricing hits are incorporated into the interest rates. It just depends on which avenue you take, pay the extra costs upfront or take a higher interest rate.
These new pricing changes have to do with the borrower's credit scores and the percentage of the down payment. The new pricing hits will be any where from 25 bps to 50 bps. This means on a $200,000 loan amount, it could cost you an additional $500 to $1,000 or the interest rate could increase any where from 1/8 to 1/4 percent in interest rate. This is all dependent on the actual spread between the interest rates.
Chart – The chart below goes into effect on April 1st, 2011. (Click To Enlarge)
Link to the Chart and more information  – Keep in mind, there are some loan officers that were making FHA loans sound more expensive after the new mortgage insurance changes in October of 2010.  Even before these pricing changes take place in 2011, in many cases, FHA loans are cheaper. I do many comparisons between FHA loans and conventional loans. What one needs to understand are the borrowers future goals, their credit scores, and their down payment. All of this needs to be taken into consideration to properly make the right decision and not based on what others blurt out. In many cases, if you are putting down less than 10 percent and have credit scores under 680, FHA loans are usually cheaper all the way around.  Some of this has to do with the increase in private mortgage insurance, PMI, when it comes to the credit scores. Many PMI companies won't do less than 10 percent down if the borrowers credit score is below 680. These are all factors that aren't usually talked about.  This is where you need to speak to a qualified loan officer that understands all of the differences.  So when shopping for mortgages, the borrower shouldn't always be concerned about the best interest rate, but hoping that they are working with an upfront and competent loan officer that will actually close the loan and not on false promises.