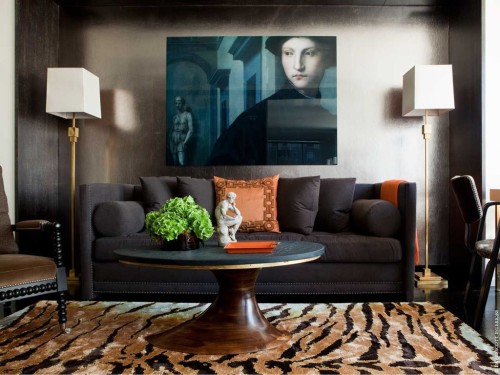 Zillow Digs Designer of the Month for April 2013, David Scott, has an eye for fine antiques and contemporary art that has earned him national acclaim with features in House Beautiful, The New York Times and Elle Décor. We caught up with Scott on his way to catch a flight at JFK International Airport to find out how art shapes a home's environment.
Zillow: You currently have projects in The Hamptons, Pennsylvania, Arizona and Manhattan. What was your first residential project?
Scott: Back in 1991, a family was renovating an estate kitchen in Scarsdale, NY and came to me through a recommendation. The owner, a true collector and connoisseur of fine art, said, "Let's start with the kitchen and if it works out, we'll do the whole house." We went on to do the entire home from top to bottom — renovation, collecting antiques and fine art — the works.
Zillow: Finding and selecting antique pieces can be daunting. Is art something you typically try to incorporate into your designs?
Scott: I am very inspired by art. A lot of my free time is spent going to art fairs and museums, and helping my clients assemble their personal collections. In fact, I am planning a trip to Berlin this summer, as a huge amount of art and design is coming from there these days.
Zillow: As an art aficionado, you must have quite a collection in your own home. How would you describe your personal design style?
Scott: When I design, I am kind of connecting the dots; there is a thread through everything. It could start with a photo like the James Kennedy piece in my dining room and then go on to a contemporary armchair in the living room. Overall it's about creating a contemporary mix with a real feeling of texture about everything.
Zillow: There's even a zebra-print rug in the sitting room! Do you see that sense of eclecticism continuing to resonate with homeowners in the future?
Scott: Individuality keeps everything relevant and personal. As far as style, literal copies of other people's aesthetic are out. Design should enhance the human experience and express a sense of the individual and share their story.
Zillow: We see that sense of individuality coming into play with the recent DIY movement. What can a homeowner do to give their home a design upgrade without breaking the bank?
Scott: Move things around and try a different furniture plan. Don't be afraid to push the sofa into a different corner and see how it changes the flow of the room. You may be surprised by what you've been missing.
Related: