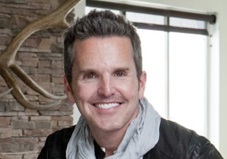 Renowned designer Nate Berkus hosts NBC's bold new reality competition series American Dream Builders that showcases the talents of accomplished designers and home builders in the country. The show pits 12 talented contestants against one another in a high-stakes competition. Read about all the contestants.

Meet "American Dream Builders" interior designer Dann Foley.
Zillow: How did you get into design?
Foley: Design has always been my calling. Initially, my parents weren't very happy about that; they wanted me to get a "real" job. But, they told me if this was what I was going to do, I needed to become a true professional. They decided college was the first step and they helped me do my research to make sure I was going to a good program. I actually started my company as an extra credit project during my senior year in college. The best part of that, was that I already had clients when I graduated.
Zillow: What's the best design advice you've ever received?
Foley: It's not exactly advice, but the best thing I've learned along the way, which has allowed me to grow and sustain my business, is that I'm the one in control of the design. Sure, it's my client's home, but I'm the designer. I tell them, they can look over my shoulder but they better not get in my way. Sure, they could fire me at any time, but they don't. In fact, they almost always come back for more.
Zillow: What's your signature design trick?
Foley: I'm known for my use of color and layering patterns. My furniture arrangements are also a signature; I go beyond the classical approach to furniture arrangement. I believe anybody can have pretty things, it's all about what you do with them. I strive for a look that's eclectic and transitional, a true blend of modern and traditional.
Zillow: Describe your design style in three words.
Foley: Colorful. Eclectic. Personal.
Zillow: What are the design trends that excite you most right now?
Foley: Rather than trends, there are certain designers who excite and inspire me. Two of the most notable are Thomas Pheasant and Thom Filicia. Forget the decorator stuff, both these guys infuse personality into their design. The fact that I can see their warmth in their designs, that excites me. That's what I strive for.
To see more of Dann's work, visit his website, Facebook, Instagram and Twitter.
Related: