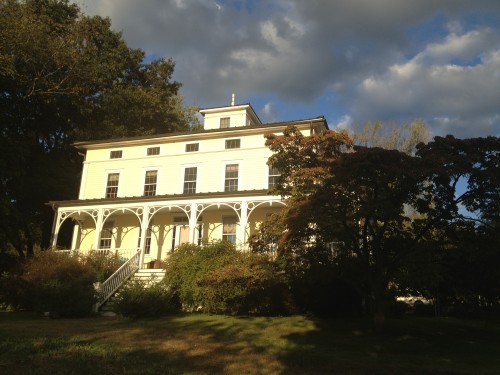 No undisclosed address here. This home is listed for sale by owner, and she isn't hiding behind a trust. In fact, "Eat, Pray, Love" author Elizabeth Gilbert is refreshingly candid and unpretentious in a video tour of her home, laughing when she realizes she forgot to make her bed.
But that doesn't mean Gilbert's home isn't getting the celebrity real estate treatment.
Rayya Elias, a broker and friend from New York City, is helping Gilbert market the property. "People must fill out a registration form with their cash status, whether they plan to get financing — all that," Elias explained. "If they want to see the house bad enough, they have to give us all their information."
The 1869 Italianate Victorian has been on the market for about a week, and it's already generated a ton of interest. "It's a beautiful country home and priced really well for being an hour outside New York City," Elias said.
The 4-bedroom, 3-bath residence is on the market for $999,000, which is a steal compared to real estate prices in the Big Apple but 228 percent more expensive than a mid-priced Frenchtown, NJ home.
Over the past six years, Gilbert and her Brazil-born husband have made custom updates to the property, likely contributing to its high price. Features of note include a giant steam shower in the master bathroom, a 500-bottle wine cellar in the basement and a 1,400-square-foot attic library known as the "skybrary."
Gilbert asked a master wood artisan to make the skybrary feel like it had grown, not like it was artificially built. Lined with bookshelves that were hand-carved to look like vines, the space looks like a whimsical treehouse. In the center, a 14-foot-long desk built out of an acacia tree is where Gilbert wrote "The Signature of All Things."
A ladder from the skybrary leads up to an 8-foot-square room at the very top of the house. This is where, looking out over the Delaware River, Gilbert wrote "Committed: A Love Story."
With so many memories in the home, Gilbert is the first to admit it seems crazy to move. But, she says she's selling for two reasons.
"The first reason, which sounds very adult, is that my husband and I are downsizing into a smaller house to make our lives easier as travelers," she said. "The second reason, which is completely irrational but more true, is that I need to move every few years. It's been six years since I moved — time for the next new thing!"
She already chronicled her year traveling across Italy, India and Indonesia in the best-selling novel "Eat, Pray, Love." Time will tell where the Connecticut native travels next.
"History has proven to me again and again, my favorite house is always the next one," she said.
Related:
Catherine Sherman, a real estate writer for Zillow Blog, covers real estate news, industry trends and home design. Read more of her work here.