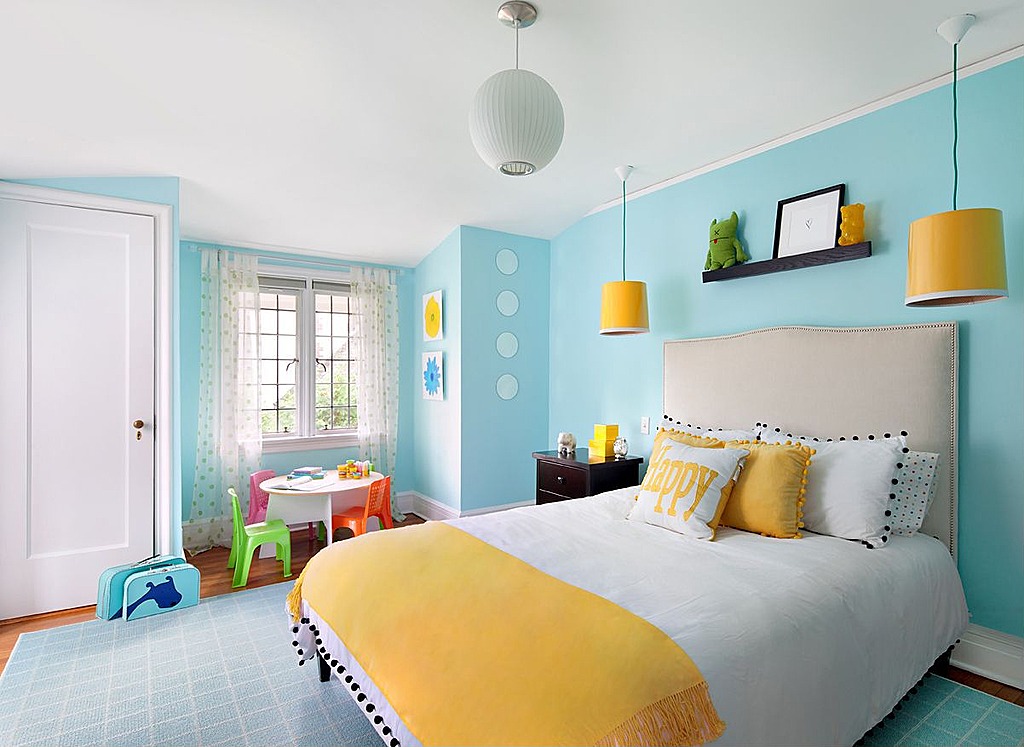 On the first episode of NBC's new home renovation reality show, American Dream Builders, the designers faced their first project, which were Tudor-style homes in desperate need of smarter space and rooms with more light. Here's a look at how two designers tackled problem areas on the show and how you can incorporate the designs in your home.
Look No. 1
The West family have six people living in tight quarters. One of the goals was to create space for a kids' room, so the Team Blue transformed the home's master bedroom closet into a kids' room (see before & after photos below). While the room is on the small side, the team used it to their advantage, creating a bold, fun look.
Kid's room: Before
Kid's room: After
"In a small room there's a tendency to paint the walls white or some other really light color. That's OK, but you might also consider going a little bolder with a playful wallpaper or wall color," interior designer Christina Salway said. Her choice also had to do with helping the room design mature with its occupant.
"People have a tendency to do kids rooms for the ages their kids are at the time of the makeover. I'd encourage homeowners to choose prints, colors and designs that will age with the occupant of the room," Salway advised.
How you can get the look:
1. Pick a bold wall paint or wallpaper.
2. Add neutral accessories designed for storage.
3. To make the room child-friendly, add details, like kid-sized chairs and table, or frame their art work.
Look No. 2
Team Red designer Erinn Valencich took on the Brehme family's living room and painted the entire room white and installed white paneling, which fits nicely with the existing beams of the vaulted room. It was a smart way to maintain and even enhance the integrity of an older home. Her other big update to the room impacted the fireplace.
Living room: Before
Living room: After
"We put a faux white Venetian plaster on the fireplace, which was super simple — you can buy a kit…and do it yourself," Valencich said.
Her other tip for a chic living room? Don't worry about being so matchy-matchy.
"We used the sofa and some flowers to provide a pop of color in the room and added some mismatched chairs," she explained. "You want to change things up when it comes to texture and color. If, for instance, you have wood floors or wood paneling, you don't want a wood table. Think instead of using something that will contrast, like Lucite or glass."
How you can the look:
1. Go for clean, white paint on the walls.
2. Mix and match materials.
3. Add colors and textures with accessories.
Get more design inspiration from "American Dream Builders" contestants on Zillow Digs!
Related:
Erika Riggs, a real estate writer for Zillow Blog, covers celebrity real estate, unusual properties and home design trends. Read more of her work here.