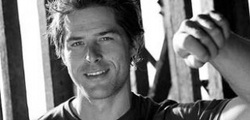 Each week, Zillow Blog will talk to the eliminated contestant of NBC's new home renovation show, American Dream Builders, hosted by celebrity designer Nate Berkus. Zillow is proud to be partnered with the show in its debut season. The show airs Sunday nights at 7 p.m. ET (6 p.m. CT).

This week the judges decided to eliminate Darren Moore, an innovator of sustainable design and construction. In 2003, he embarked on a four-year trek to work in 25 countries, along the way learning techniques for eco-building long-used in parts of Europe, Asia and Australia. Moore founded Ecovations in 2006.
Zillow: Why did you enter the competition?
Moore: Honestly, I thought I had a chance to win. Aside from winning, my No. 1 motivation was to get my message out there, that sustainable design is accessible to anybody, anywhere and it doesn't have to be more expensive. I wanted people to understand that sustainability is a lifestyle; it's about protecting our resources.
Zillow: What makes your style unique compared to the other designers?
Moore: I'm focused on sustainability — which can work with any design style. That, plus I always keep the occupants of the house at the forefront. You've got to design for the people who live there, even when they don't know or can't tell you what they want. I'm pretty intuitive when it comes to that.
Zillow: What was the greatest challenge about being on the show?
Moore: Getting past all the differences of opinion and coming up with respectful ways to dialogue with each other presented some challenges, but the most difficult challenge was the constant time-budget battle.
Zillow: What was your favorite part of being on the show?
I loved being able to do whatever we could conceive and execute. It was a great chance to unleash the old creativity.
Zillow: What are your plans going forward?
Moore: I'm working on developing a product that represents some ecological sustainable project that inspires people to take action, not so much regarding design but more to do with lifestyle. I love the idea of being able to build partnerships with stores or companies that might enable me to get my messages to a larger audience.
Do you think Moore deserved to be eliminated? Leave your thoughts in the comments section!
Related: