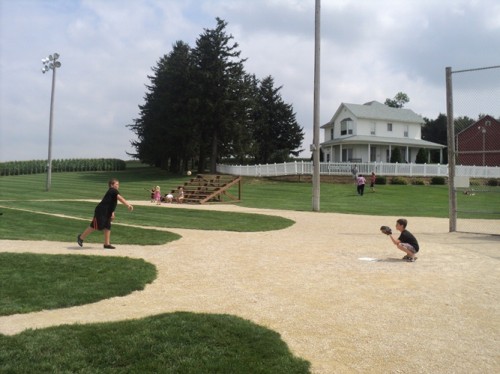 When "Field of Dreams" premiered 25 years ago, theaters filled with people thinking they were going to see another baseball movie. But the iconic film quickly proved it's about more than the game. Iowa farmer Ray Kinsella, played by Kevin Costner, hears a voice that whispers "if you build it, he will come," and his life on the cornfield never looks the same.
Ironically, the same sentiment that told Kinsella he didn't need a fancy baseball diamond to attract fans has been used by franchises to build publicly funded stadiums eventually costing millions or even billions of dollars, according to an ESPN report. Residents of Dyersville, IA are fighting to make sure that doesn't happen in their small town.
"Field of Dreams" was filmed on a 193-acre Iowa farm owned by the Lansing family for more than 100 years. Filmmakers discovered the field in 1987 with help from Sue Riedel, a local volunteer for the Iowa Film Office, a state government effort to lure Hollywood business to Iowa's prairie, according to an AP story.
In 2010, Dan Lansing and his wife, Becky, decided to retire from the farming business and sell their property. After receiving more than 100 inquiries about the listing, the couple sold it in 2012 to Mike and Denise Stillman of Go the Distance Baseball LLC.
"Honey, you can come back here in five or 10 years, and this field will be exactly the way it is today," Becky had told a man who'd traveled from Chicago with his young grandsons to see the Field of Dreams in 2012.
The Stillmans have since proposed to turn the farm and field into a baseball and softball complex for traveling youth tournaments. All-Star Ballpark Heaven — which USA Today says would include 24 fields, team bunk houses, an Olympic-size swimming pool and an indoor practice dome — is estimated to cost $74 million.
Former Dyersville Mayor Jim Heavens thought this was a great deal, especially when the Stillmans agreed to pay the necessary $3 million extension of city utilities, but he was ousted at the next election.
A coalition of neighbors known as the Residential and Agriculture Advisory Committee sued Dyersville over the site's rezoning, and Go the Distance sued the committee for defamation and interference with the project.
"Residents have shed tears in city council meetings," The Des Moines Register reports. "They've fought public relations battles on Facebook."
The state of Iowa even passed a law that gives developers rebates on sales taxes collected at the baseball facility for 10 years after it opens — up to $16.5 million. But for now, Ballpark Heaven remains in dispute, with financing and construction delays pushing back the opening to 2015.
For the 25th anniversary of the celebrated film, the cast is reuniting in Iowa on Father's Day. The development stalled, the field will likely look like it did in the movie: a diamond carved out of a corn field in the middle of farm country.
Related:
Catherine Sherman, a real estate writer for Zillow Blog, covers real estate news, industry trends and home design. Read more of her work here.