For Sale: Homes Fitting for 'The Hunger Games' Capitol
With the premiere of "The Hunger Games: Catching Fire" this week, the post-apocalyptic nation of Panem will return to the big screen, showing off its shiny Capitol and surrounding 12 districts. To get in the "Hunger Games" spirit, we've gathered homes fitting for the wealthy Capitol residents and their lavish parties. From colorful, futuristic furnishings to sleek, modern design, these spaces would make Effie Trinket feel right at home.
Sunny Isles Beach, FL
17720 N Bay Rd #13-C/D, Sunny Isles Beach, FL
For sale: $1.2 million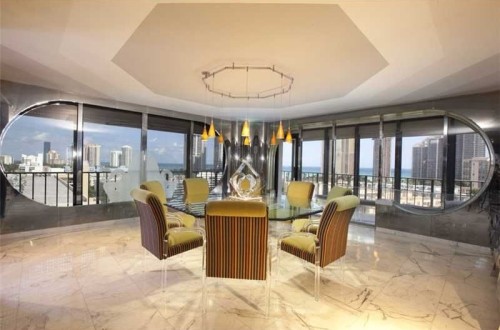 With walls of stainless steel, this Florida home fits the Space Age feel of Panem's Capitol. Dramatic design elements such as copper finishes and marble flooring add a sense of luxury to the penthouse.
Gilbert, AZ
2639 E Lovebird Ln, Gilbert, AZ
For sale: $1.695 million

There's nothing like a floor-to-ceiling light fixture, shiny mirror and modern fireplace to set the scene for a high-class party. Featured in the 2013 Street of Dreams, this Gilbert, AZ home also features a swanky bar and glass-enclosed wine room.
Scottsdale, AZ
9290 E Thompson Peak Pkwy UNIT 481, Scottsdale, AZ
For sale: $1.85 million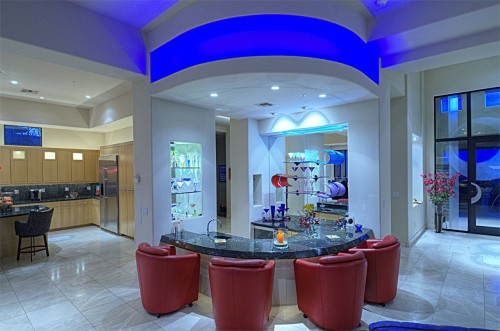 This Scottsdale, AZ home is a contemporary take on '80s design with pops of color and modern amenities. The bar stands out with sleek blue lighting and bright red chairs.
Las Vegas, NV
200 W Sahara Ave UNIT 4002, Las Vegas, NV
For sale: $1.999 million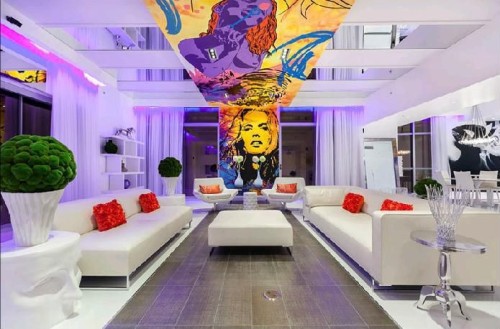 Located on the Vegas Strip, this 40th-floor penthouse has been completely remodeled with modern finishes and custom lighting. The living room makes a bold statement with pop art and colorful accents.
Bal Harbour, FL
9601 Collins Ave PH 205, Bal Harbour, FL
For sale: $5.995 million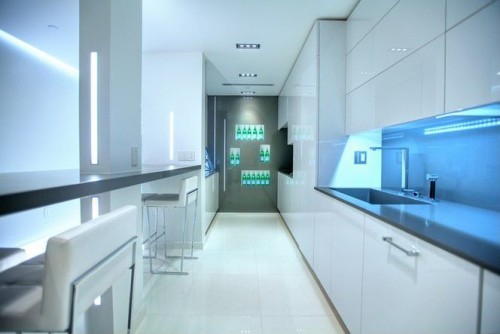 If there's one thing that screams modern it's white-on-white decor. This oceanfront residence features a minimalist kitchen with built-in, under-counter lighting and shelves for displaying beverages.
New York, NY
213 W 23rd St APT 6S, New York, NY
For sale: $5.995 million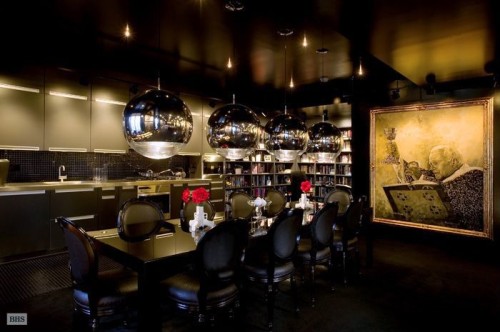 Described in the listing as "cooler than ice, hotter than fire," this Chelsea apartment has been featured in music videos and TV shows. "The Black Apartment" has a dramatic look and feel with shiny light fixtures and framed artwork.
Related:
Catherine Sherman, a real estate writer for Zillow Blog, covers real estate news, industry trends and home design. Read more of her work here.