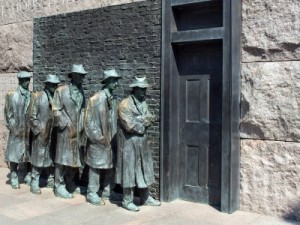 Since the bursting of the housing bubble, we've seen the mortgage industry flood to government-backed mortgages as a source for home lending, and it makes sense.
Government backed mortgages were created during the Great Depression to help the housing market.  Lenders didn't ha
ve money to lend, the housing market was in decline and nobody trusted the banks that were holding their deposits.  Sound familiar?
FHA loans were the first government backed mortgage introduced in 1934 as one of the many government solutions to the Great Depression.  It is the only government backed mortgage that is available to the entire marketplace (VA loans are for qualified military veterans while USDA loans have an income limit and are for designated "Rural" areas only).  FHA has seen a 500%+ increase in market share from 2006 to 2010 from 3.77% to 19.73%.  The funding for these programs have become more limited, with FHA announcing problems with funding in late 2009 and USDA mortgage funds reported low funds before the end for the first quarter (funds are now available).
The government knows the importance of these loan programs.  Their very existence of FHA was to help the housing market during the worst economy in our country's history.
Which puts us in a pickle…how do we offer a loan program that we need when we don't have money to fund it?  The solution of choice, charge people who need them more money.
FHA first increased their insurance premiums in 2008, again on April 5th, 2009 and will implement another increase on October 4th, 2010.  USDA also increased their cost from 2% to 3.5%.
It's a necessary evil that has a catch. These changes increase the cost of housing, which negates the value of reduced prices and lowered interest rates.  If homeownership becomes more expensive, how will homeowners be able to afford the homes on the market?  The answer is easy, lowered prices and reduced rates.  Statistics show that first time buyers who need affordable housing is the group who provides a floor for our housing industry.  When home prices and rates drop enough, buyers who couldn't afford previously will buy.  If we make the cost of housing more expensive, they'll have to for reduced prices to buy again.
How do we reduce home prices and interest rates?  Unfortunately, to answer that question, you just have to look at what has happened in the last two years.  Reduced home prices and interest rates have been a product of this recession.
Instead of bailing out the banks who continue to pay their executives ridiculously high bonuses, shouldn't we be using this money for the American people?  We all know that when the government opens up their check book, we end up paying for it somehow.  Banks and mortgage lenders still profit from originating mortgages, as does the government, so why isn't there more funding without the extra cost?
I also worry for our military home buyers.  VA loans are the only government backed mortgages hasn't increased their costs during this recession.  Many of our soldiers are coming home from war and buying homes.  Especially with the $8,000 first-time-buyer tax credit extended for soldiers who served overseas, we will see more of these veterans using their VA loan entitlement.  There hasn't been an announcement on VA loans increasing their Funding Fees, but I wouldn't be surprised to see one soon.