Haven't booked your summer camp site? With these homes, you may not need to. To kick off summer, we've gathered for-sale listings near popular national parks across the country. Check out these homes with nature in the backyard.
Grand Teton
500 S Swan Rd, Jackson, WY
For sale: $6.75 million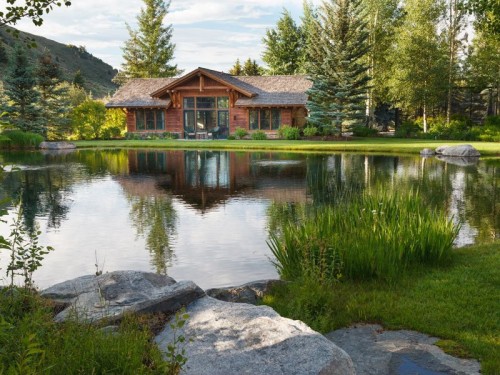 Framed by the Teton Mountain Range and a forest of cottonwoods, evergreens and willows, this 13.17-acre property is a scenic escape in Jackson, WY. Plus, Grand Teton National Park, with more than 200 miles of trails and alpine terrain, is less than a 20-minute drive away. Residents can float on the Snake River by day and enjoy the comfort of a luxury log-style home by night. The 5-bedroom, 7-bath house is filled with large windows to let the outdoors in. It's also surrounded by two aerated ponds and a creek, where trout and trumpeter swans reside.
Pecos
48 Macho Canyon Rd, Pecos, NM
For sale: $5.5 million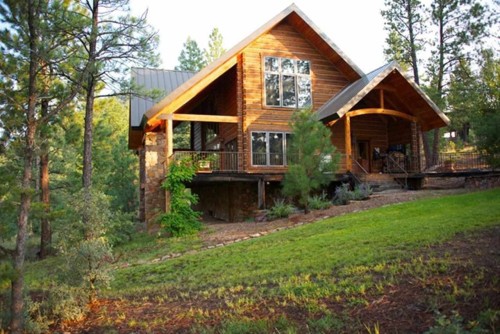 Pecos National Historical Park houses the remains of an Indian pueblo — a reminder of the people who once lived in the Sangre de Cristo Mountains near Santa Fe, NM. Today, the park draws visitors interested in its rich history and geography. For those wanting to call Pecos home, this 156.2-acre property overlooks the Pecos River Valley about 7 miles from the park entrance. Built with hand-hewn logs, the main house and guest casita feature custom rock fireplaces, covered porches and vaulted ceilings. According to the listing description, the "heart and soul of this compound has to be the rock-built cantina with a professional-grade kitchen and adjoining flagstone-lined hot tub that offers stunning views of the canyon all the way to the Pecos wilderness."
Acadia
76 Woods Rd, Mount Desert, ME
For sale: $995,000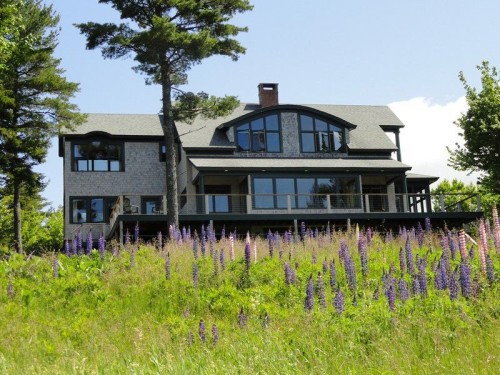 The first Eastern national park, Acadia is located on the Atlantic coast in Maine, occupying much of Mount Desert Island. During the warm summer months, visitors flock to the park to hike granite peaks, bike on historic carriage roads and enjoy the coastal scenery. This 4-bedroom, custom-shingled house is a great spot for enjoying Acadia's Round Pond. Internal combustion engines are prohibited, keeping the pond a quiet spot to take in the view and fish for smallmouth bass. The setting is described in the listing as a "place for quiet living," with a wrap-around ironwood deck for watching loons, osprey, bald eagles and myriad water fowl.
Rocky Mountain
63 County Road 4054, Granby, CO
For sale: $965,000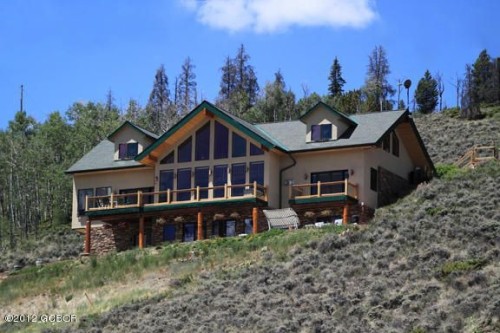 According to the listing, this home is located about 10 miles south of the Rocky Mountain National Park entrance. The proximity is ideal for an active Colorado family, with skiing, golfing, hiking and fishing nearby. The park is known for making you feel like you're on top of the world with more than 300 miles of hiking trails, 12,000-foot-high crests and clear, starry nights.
Yellowstone
254 Trail Creek Rd, Livingston, MT
For sale: $895,000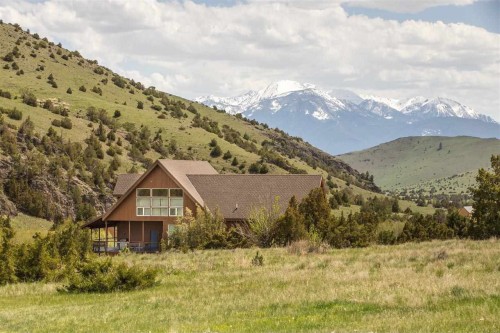 Sprawling across Montana, Idaho and Wyoming, Yellowstone is the fourth most-visited national park, according to National Geographic. With the world's largest collection of geysers including Old Faithful, one of the largest high-altitude lakes in North America and the largest supervolcano on the planet, sightseeing is a must at Yellowstone. To enjoy the sights year-round, this secluded, 4-bedroom home is located in between Bozeman and Livingston, about 35 miles from the park. The home has a contemporary interior with views of Emigrant Peak and rolling Montana countryside.
Great Smoky Mountains
4848 Long Rifle Rd, Walland, TN
For sale: $849,000
Perched on 5 acres in the northwestern foothills of the Great Smoky Mountains, this Walland, TN home takes mountain views to another level. The custom-built, 4-bedroom home features a hand-carved mantle and custom-log stairs, a large master suite with a private viewing deck, and a partially finished basement. Great Smoky Mountains National Park — world renowned for its ancient mountains, diverse plant and animal life and remnants of Southern Appalachian mountain culture — is only 12.6 miles away. According to the National Park Service, it's America's most-visited national park.
Zion
101 Canyon Cove Cir, Springdale, UT
For sale: $838,000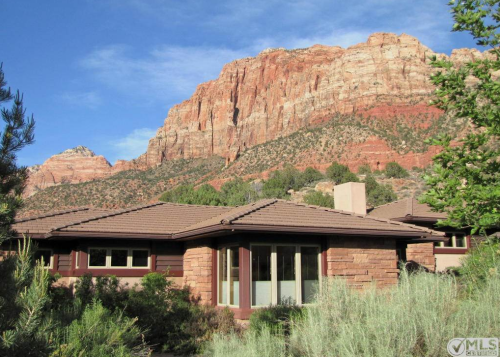 Utah's first national park, Zion is marked by massive sandstone cliffs and an array of plants and animals. This Springdale, UT home backs right up to the park, blending with the cream-and-pink stone in its backyard. Built in 2000, the 2,570-square-foot house has corner windows in every room to showcase the view. It also features geo-exchange heating and cooling for extra comfort and energy efficiency.
Yosemite
8038 Chipmunk Holw, Yosemite National Park, CA
For sale: $550,000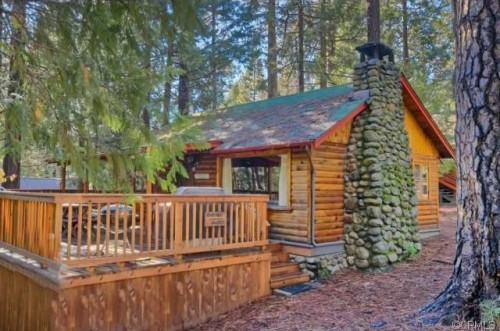 Best known for its waterfalls, Yosemite National Park spans nearly 1,200 square miles of valleys, meadows, glaciers and more. This cozy log cabin is located in the redwoods of Yosemite with easy access to trails and the Merced River. With room to sleep six, the home features a newer deck, renovated bathroom, new light fixtures and dining area. Currently managed as a vacation rental, some of the cabin's furniture will also be included in the sale.
Glacier
991 Lake Dr, Columbia Falls, MT
For sale: $385,000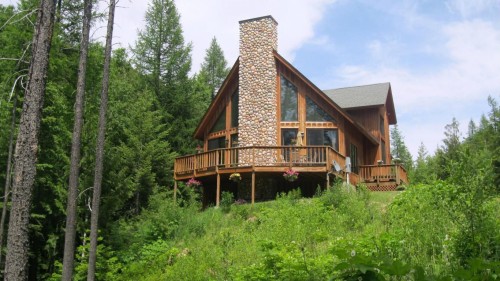 "With over 700 miles of trails, Glacier is a hiker's paradise for adventurous visitors seeking wilderness and solitude," according to the National Park Service website. About 20 minutes (11.7 miles) from the park, this home has public lakes and trails in its backyard. The A-frame cabin was built in 2003 with big windows for taking in the landscape. Other highlights include a large deck, open floor plan and a river-rock fireplace.
Hawai'i Volcanoes
11-3910 3rd St, Volcano Glenwood, HI
For sale: $365,000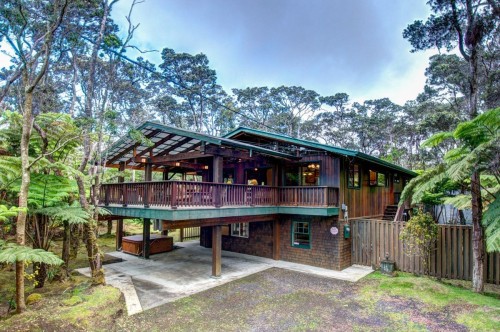 Described in the listing as the quintessential volcano getaway nestled in the Hapu'u fern forest, this home is about 10 miles from Hawai'i Volcanoes National Park, where sulphur banks and black lava fields are a popular attraction. The buyer of this home can also enjoy the sounds of indigenous birds while soaking in a hot tub or relaxing on a covered deck. The 0.6-acre wooded property is larger than the standard lot in the area, and the home is being sold fully furnished.
Olympic
72 Mount Mcdonald Rd, Port Angeles, WA
For sale: $244,500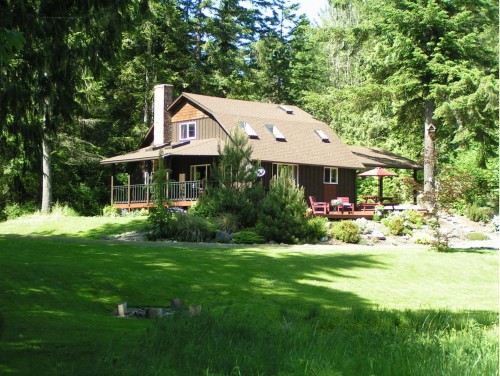 Only 9.3 miles from the Olympic National Park Visitor Center, this Pacific Northwest property has prime access to mountain vistas, ancient forests and ocean tidepools. The home was built in 1979 but was completely remodeled in '07 with new electrical, plumbing, Australian cypress flooring, glass-etched interior doors, vinyl windows and roof. A private, covered deck with skylights wraps around to a tiered, uncovered deck overlooking 7.24 green acres, a seasonal pond and year-round stream.
Related: