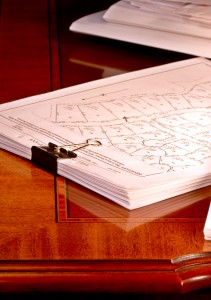 I am often asked about title company fees and if the pricing varies from one company to another. Some title companies offer deep discounts. This is another situation where you "get what you pay for". Horror stories are emerging regarding title companies failure to record deeds within a timely manner. And the problems do not stop there.
The title company handling the loan transaction essentially handles the legal side of the deal. Lien releases and recording of new documents are handled by the title company. Many times these duties are subcontracted out to companies that concentrate on abstracts and deed recording. In other words, ownership needs to legally be transferred from one owner to another at the courthouse. Larger title companies have in house staff that handle these activities.
Title Insurance that covers the lender is required on all new mortgages. Reissue rates are many times available but not always offered. Ask your mortgage banker or title company if they offer reissue rates. Owners title insurance policies need only be purchased one time, in most cases at time of purchase, but it is not required. This is where a highly experienced title company makes a difference. Be certain to understand your options. They may vary from to state to state.
Another major step in the process for a title company is paying off the current lien. Most mortgage transactions, purchase or refinance, require another lien involved to be paid off. The title company receives money from the new lender in which a portion of the funds are intended to pay of any liens that currently exist on a property. Title companies have been known to defraud lenders..
The title companies I work with are typically attorney owned. Is this always a necessity? No, but I always recommend it. It is especially important on purchase deals and more involved real estate transactions that stray from the normal closing. Many times the title company isn't given the attention it should as part of the transaction. It should. Consumers have the legal right to choose their own title company but rarely exercise that opiton. Do your due diligence and research the title company that is recommended to you. It's a good idea to ask friends and family for a referral to one they have used and were satisfied with. A title issue can come back to haunt you years after your transaction.
As always, seek high quality advice.