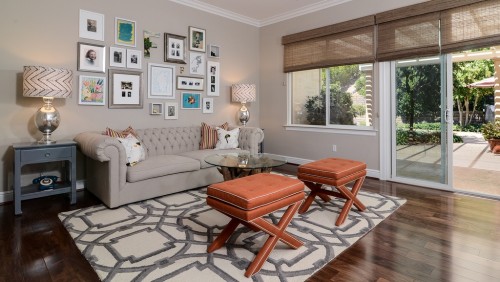 Creating a successful mix of patterns results in a balanced and beautiful room, but it takes a nimble hand. Too many patterns and the room is overdone; too little and the room is bland. It is more than just mixing and matching colors. The trick is to find just the right combination of scale and design to create the perfect effect.
Patterns are an integral part of the overall look of the room. Patterns on fabrics are the most obvious usage, but there are also inherent patterns in furniture shapes, wall coverings and statement area rugs, too.
Style
Patterns come in many different styles. Naturalistic patterns are realistic renderings of natural forms, such as flowers — and as of late, birds. Stylized patterns simplify natural designs to capture their essence; the fleur-de-lis, for example, is a stylized iris. Geometric designs include stripes, checks and plaids. More modern versions celebrate trellis-like patterns in large formats. Abstract patterns are loose artistic interpretations of realistic or geometric designs and gate-like designs.
Scale
The scale of a pattern is determined by the size of its motifs or designs. Small-scale patterns can read as a texture rather than as a pattern and can be a place for the eye to rest when used in rooms that include larger patterns. Medium-scale patterns are versatile and seldom overpower other elements. With large-scale patterns, which work well in generously-proportioned rooms, make sure you have a large enough area to display several pattern repeats so the design does not look truncated.
Thinking about how patterns interact makes the job of choosing and combining patterns easier. Looking at the way professional designers combine patterns with great flair — often defying rules while doing so — will offer design inspiration. Here are some guidelines that will help as well.
Tie patterns together
Take as your inspiration the one pattern you are most attracted to. Then choose two or more that work with it. Three patterns provide plenty of variety; more than three can be overwhelming.
Use color to unify
Patterns with light backgrounds open up a room. Those with dark backgrounds make it more intimate or moody.
Vary the patterns
Choose a variety of styles and use patterns that are different in scale. For example, try a large-scale plaid with a medium-scale abstract leaf pattern and a small-scale stripe that combines the colors from both.
Keep your room in mind
When choosing patterns, think about where they will be placed. Will they create both a sense of movement and a feeling of equilibrium?
See more pattern-mixing designs from Kerrie Kelly on Digs.
Related: 
Kerrie Kelly is a Northern California interior designer and the founder of Kerrie Kelly Design Lab (www.kerriekelly.com). She is an award-winning interior designer, multimedia consultant and an author of two books: "Home Décor: A Sunset Design Guide" and "My Interior Design Kit," with Pearson Professional and Career Education.