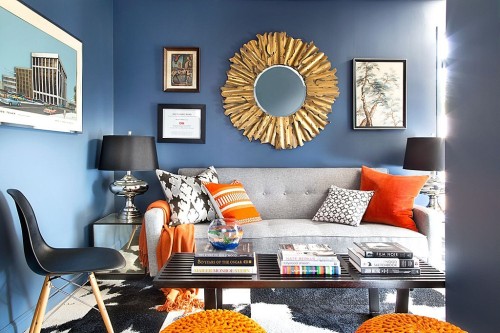 By Jackie Hernandez
Good color palettes start with a feeling. Before choosing a color palette for your room, decide how you want the room to feel. Once you have targeted that feeling it will be easier to choose a color palette using simple color theory. Start with the color that evokes that feeling for you and then choose from one of these three palettes.
Complementary color palette
For a lively, energetic and vibrant space, try a complementary or split complementary color palette. Complementary colors are two colors directly opposite each other on the color wheel, like blue and orange. The contrast in the colors adds energy and tension to the color palette. Split complementary color palette includes the starting color and the two colors on each side of its complement, like blue, yellow and red. This adds a third color to the palette and makes an interesting combination. This type of palette will always mix a cool color with a warm color.
Blue and orange

Purple and yellow
Red, green and blue
Analogous color palette
Analogous colors are any colors in a row on the color wheel. For an easy palette, start with three adjacent colors. This palette can either be cool or warm. Because the colors are next to each other on the color wheel, there is little contrast. They are harmonious with each other, creating a calming effect.
Blue and green
Aqua and blue
Monochromatic color palette
A monochromatic color palette is shades and tints of the same color. There is no color contrast and minimal or gradual contrast between the varying shades of the chosen color.
This is a great option if you only like neutral colors or if you are afraid of color. Using one color, even if it is a bold one, in a monochromatic palette keeps it easy on the eye.
The key to making a monochromatic color palette look great is using a lot of different textures to add interest.
Search by your dream color palette on Zillow Digs.
Related: 
Jackie Hernandez is the founder of the Define Your Style System™, teaching people how to uncover their authentic decorating style. Learn more and get started with her free decorating style crash course video series. On her blog, Teal & Lime, Jackie has one simple mission: to empower you to decorate your own home in an easy and approachable way