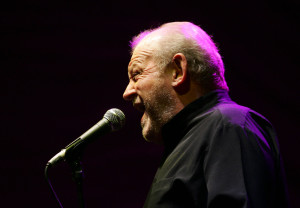 UPDATE: Last spring, Cocker listed the ranch for $7.85 million and started to build a smaller home across the road. He died in December, and now the estate is on the market for $7 million. The listing agent is Mandy Nadler of Coldwell Banker.
ORIGINAL POST 4/28/2014: When he decided he wanted a Colorado retreat, British blues musician Joe Cocker needed a little help from his friends.
According to Bob Pennetta, the singer's real estate agent and old friend (the two met in Jamaica in the 1970s), Cocker and his wife were looking for someplace they could just be regular folks.
"Joe just wanted to have someplace that was a quiet little getaway," Pennetta said. "He wasn't interested in all the trappings of the fast life anymore."
So he passed up swankier ski-town addresses for a 243-acre spread in tiny Crawford, naming it the Mad Dog Ranch. The couple built a 7-bedroom home that soon became their main residence. Cocker hired local craftspeople to do the work.
When the home was completed, he made friends with the locals and hosted meetings of the town's snooker club on his imported snooker table which, according to legend and his real estate agent, once belonged to famed pirate Blackbeard. At the beginning of every school year, Cocker hosts a party for local teachers in the three-town valley.
Cocker grows greens and fresh tomatoes year-round in the home's greenhouse and gardens. The home has a music room, designer kitchen and, according to the listing, "an abundant amount of luxurious lounging space waiting for family and friends to let their hair down and get western."
That's basically what Cocker did there.
During a recent visit, Pennetta said Cocker told him: "You know, Mate, I can get in my truck, drive down to the city market, buy a pint of Haagen-Dazs, go home, and nobody bothers me."
Cocker and his wife are now selling their big house and downsizing to another home nearby. The ranch two hours east of Telluride is listed for $7.85 million.
Related: