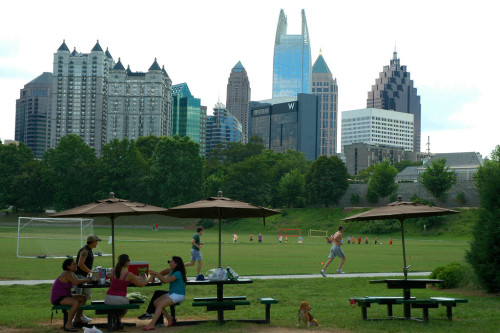 If you think Atlanta is just known for its Southern hospitality or rich history, think again. Modern-day Atlanta is a national center of commerce and culture with movies like "The Hunger Games," companies like Coca-Cola and sports teams like the Braves bringing bragging rights to the city. To find out more about life in Atlanta, we asked nine locals to share their expertise.
What's Atlanta most known for, and what's its best-kept secret?
Atlanta is so rich with history — from the King Center that honors the legacy of Dr. Martin Luther King Jr. to Oakland Cemetery to Stone Mountain to the Jimmy Carter Presidential Library & Museum to the Fox Theater and many beautiful historic homes. The best-kept secret of Atlanta is its rich art scene. There's the awe-inspiring High Museum, the always entertaining Alliance Theatre and incredible improv troupes like Whole World Theatre and Playing in Traffic. Between Smith's Olde Bar, Chastain Park Amphitheatre, the Fox Theater and the Tabernacle, you can always find a unique venue for musical artists. — Heidi Rew
How has the city changed since you moved there?
I moved to Georgia in 1996 right before Atlanta hosted the Olympics. The games really helped to jump-start the local economy. It's been interesting to watch Atlanta evolve into "Silicon South" with all of the technology companies and startups making waves. — Lauren Patrick
Do you think Atlanta fits with Americans' idea of Southern culture?
Atlanta is a very good example of Southern culture but with a twist. There is an urban edge in Atlanta that combines Junior Leaguers with hipsters to create an eclectic mix. — Tracy Kistler
Favorite and least favorite thing about living in Atlanta?
Hard to narrow it down to one, but I would say spring and fall weather. Atlanta folks live for patio weather. As for my least favorite thing, I'm going to go with the super-obvious answer of … traffic. With that said, I am fortunate that my commute isn't as treacherous as some, but it can really sneak up on you anywhere. — Jennifer Herzberg
Is it a place to raise a family?
Atlanta is a great place to raise kids. You have major attractions like the Georgia Aquarium, World of Coca-Cola, the Atlanta Zoo and Centennial park all very accessible. There are plenty of parks to stroll in, great restaurants, premium shopping experiences from Buckhead to Midtown to Lennox Mall and just a wonderful city with a plethora of resources for families. — Kia Morgan Smith
Best neighborhoods for families and singles?
The best neighborhood for families would probably be Brookhaven. It has more of a suburb feel but close proximity to the city. For singles, Buckhead or Midtown are the best for nightlife and meeting people. — Rachel Regal
Do most people rent or own homes in Atlanta, or is there a mix of both?
I would say there is a mix of both because there are so many newcomers and, like any normal person, they want to see if they like the city first. So, they'll usually rent for a year, and if they love it, then they'll want to make an investment in their future by purchasing one of the many beautiful homes here. On a side note, seriously there are so many stunning homes here. Take my word for it! — Chas Kendrick
Is it affordable? If so, what are some budget friendly things to do?
You can spend as much or as little as you like and have a terrific time in Atlanta. Folks flock to Piedmont Park when the weather is nice, and the newly expanded Atlanta Beltline is popular with walkers, dogs, runners and bikers. Nearby Lullwater Park near the Emory campus is a hidden gem for an intown nature walk. And after you work up an appetite, head to Taqueria del Sol on Cheshire Bridge Road for the best budget friendly meal in town. — Diane Silver
If someone was visiting Atlanta, what tourist attractions should they visit and which do you think they could skip?
I'd say to check out a Braves game if you can. We love the Georgia Aquarium and now have an annual membership. Buckhead is great for shopping and a dinner out but don't miss Piedmont Park or the Chattahoochee River. I think people are surprised that a busy city like Atlanta has some amazing natural playgrounds! Also, there are so many fun walking towns full of shops and great restaurants for foodies. Two of my favorites include Decatur and Roswell. — Julie Montgomery
Related:
Catherine Sherman, a real estate writer for Zillow Blog, covers real estate news, industry trends and home design. Read more of her work here.