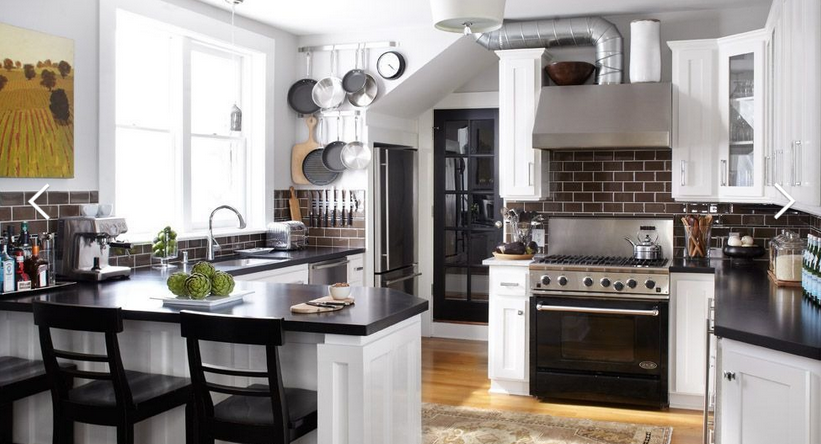 If you've been thinking about renovating your home in the New Year, you've likely been to Zillow Digs for inspiration, and you may even be aware of some of the hottest design trends for 2014:

Kitchen
Looking to add a dose of sophistication to your kitchen? A little sass to your traditional-looking space? Some flair? According to Zillow Digs Home Design Trend Report for 2014, here's what will be popular with homeowners next year: kitchens featuring black countertops, open shelves or glass-front cabinets (You can put your best dinnerware on display.) and darker paint tones (like black, deep brown, dark red and rich copper). See some of the most popular kitchen photos on Zillow Digs. There, you can browse hundreds of thousands of interiors and exteriors, organized by space, style, cost and color.

Master bedroom
Think: warm, welcoming, and inviting, as a more contemporary, casual look in the bedroom will take precedence in 2014. It's all about harmony and ease – a look made possible with the right mix of textures and other elements. As for color – which brings the room together – 2014 colors will focus on a more neutral look. Among the top choices: gray, a multifaceted color which can go both rustic and contemporary in vibe; and blue. Subtle and soothing is the name of the game! As for the all-important closets, that boutique-like feel is currently in style, and will continue to be in 2014, complete with compartmentalized storage, shoe walls, vanity areas and other focal points.

Bathroom
Large showers with multiple shower heads, frameless shower enclosures, glass tiles (for a glossy, sparkling look that can make the space seem larger than it is), heated floors and towel racks, and custom storage solutions (for that uncluttered, spa-like appearance) are among the top remodeling trends you can expect to see more of in 2014, particularly as homeowners look to embellish the 'shower experience' rather than the tub experience. According to a Home Improvement Trend and Spending Survey, Zillow Digs users want open and light bathrooms. And without shower curtains, you can take advantage of the free wall space to showcase those aforementioned glass tiles.

Home office
With the line between work and home continuing to blur, homeowners not only want a quiet, clean space where they can productively work on their projects after hours, but they also want this space to do double duty. Giving up a guest bedroom to put in this new office? Chances are, you'll still want the room to have guest capabilities (think: Murphy bed). Several top designers also say that vintage furniture is "in," as are hues of gray or brown, which have a soothing, non-distracting effect.
Planning a remodel in 2014? Check out Zillow Digs for inspiration.
Related:
Vera Gibbons is a financial journalist based in New York City and is a contributor to Zillow Blog. Connect with her at http://veragibbons.com/.
Note: The views and opinions expressed in this article are those of the author and do not necessarily reflect the opinion or position of Zillow.