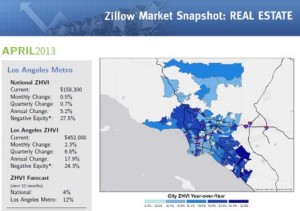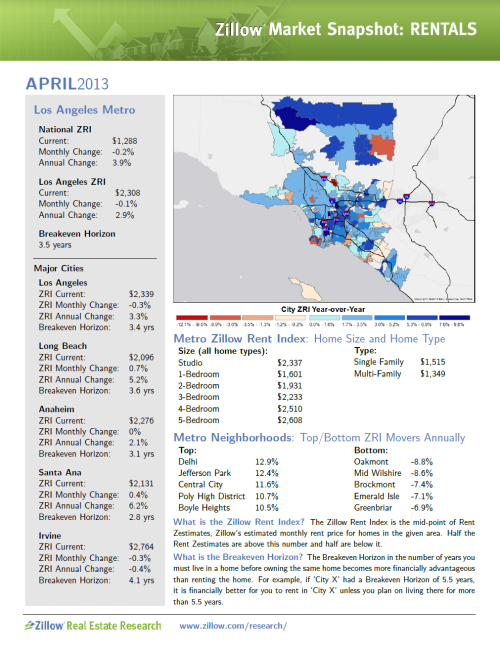 All real estate is local. That's why we're proud to introduce our Zillow Market Snapshot reports, giving you full access to the timeliest data in the industry and summarizing what's going on in local metros across the country. The reports provide a quick and informative look at the current status of both the rental and homeownership markets, and will be produced in conjunction with our monthly and quarterly Zillow Real Estate Market Reports.
The Rentals Snapshot (left) provides a quick overview of the market at the metro, city and neighborhood level. The report allows for comparisons of key data points, including the Zillow Rent Index (ZRI), over time between the national, metro and city levels. Additionally, these rental reports feature the breakeven horizon, which is the number of years you must live in a home before owning the same home becomes more financially advantageous than renting the home. The second page of the report provides similar statistics for more cities and neighborhoods within a given metro.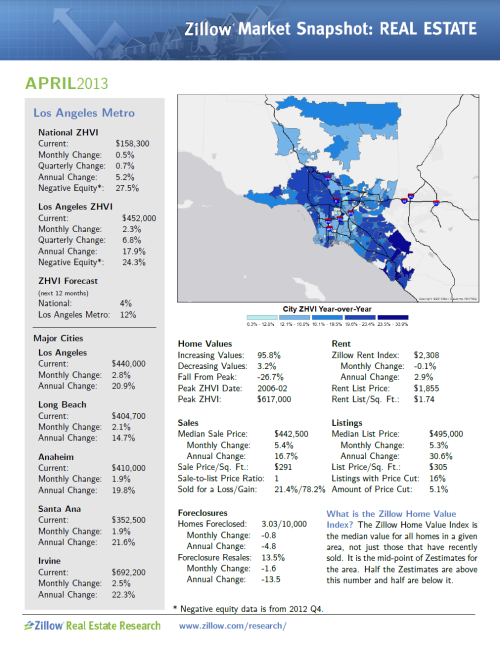 The Real Estate Snapshot (pictured right) follows the same layout, providing national, metro and top five city Zillow Home Value Index (ZHVI) information in the left bar. We also include the percentage of homes with negative equity and forecasted ZHVI at the national and metro levels. The map shows the annual changes in ZHVI by city. It also provides vital statistics of the metro's real estate market broken down in many different ways. For example, we can see how many homes are increasing in value and historical information about the housing peak.
Our goal is to provide as much relevant information about your local housing market in a format that is easy and reliable. We hope you enjoy using these as much as we enjoyed creating them.
Download your Local Market Snapshot here!