Need Real Estate Advertising Ideas?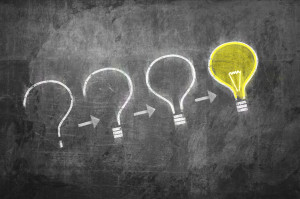 Trying to expand your client base but unsure where to start? Fear not, Zillow can help. Marketing your business is a daily task, and there are as many ways to approach it as there are hours in the day. As part of your overall marketing plan, advertising can often seem like the most expensive and labor-intensive component — but starting small can be relatively easy and reap big rewards.
Here are 7 effective real estate advertising ideas to help you grow your pipeline and keep it flowing.
1. Social media
Jump on board the Facebook, Twitter and LinkedIn real estate train. Sure, you've heard this before, and you've likely boarded this train a while ago, but are you doing it properly? Resist posting status updates about your pet's antics or the joys of a morning latté. Instead, create a professional business page to highlight your real estate prowess by sharing facts like changing neighborhood home values, impacts of new real estate regulations, or even the occasional fun celebrity real estate post. Share interesting information that your audience will be compelled to forward or tweet to others, and watch your fan base grow. Repost this info in your professional blog and email newsletters and your audience will be hooked.
2. Educational seminars
Hosting a learning session for potential clients is an ideal way to expand your audience while positioning yourself as a real estate expert. Invite your Facebook friends, Twitter followers, and LinkedIn network to attend your free seminars for those in different stages of the real estate life cycle. Hold classes for first-time buyers — or homeowners preparing to sell— where you address frequently asked questions, and remove the confusion and anxiety buyers typically feel during this time. Check out Zillow Academy for topic or presentation ideas, or repurpose information from a conference or seminar that you attended. Your educational seminars are the perfect forum to highlight your real estate expertise and leave your connections with little doubt that you're the ideal person to confidently guide them through the buying or selling process.
3. Online real estate sites
Get in front of buyers and sellers where they research homes the most — online. Most home buyers start their search online and programs like Zillow Premier Agent® offer agents ways to boost their real estate advertising presence across Zillow and Yahoo! Real Estate. Choose your farm area, determine your share of voice, and get yourself — and your listings — in front of active home buyers and sellers who are looking to connect with you.
4. Reviews
Already online? Next on your to-do list is getting reviews from clients and placing them where your potential client base is looking for an agent. Your Zillow profile page and your own website are just a couple places to start. What do reviews have to do with real estate advertising? Everything. Zillow features more than 1 million reviews of real estate professionals and data proves the more, the merrier: Agents with 10 or more reviews on Zillow see more than a 300 percent increase in contacts versus agents who haven't gone that extra step. Let your clients do the talking and watch the contacts flood in.
5. Mobile
Mobile advertising is a multi-billion-dollar industry because smartphones' high functionality allow users to do more with them and spend time on them — which means they're constantly viewing online content as well. Real estate mobile advertising is one of the most effective ways for agents to target home shoppers right where they want them, whether walking through a neighborhood or standing in front of a home for sale. Not convinced? Consumers use Zillow mobile apps to view more than half a billion homes each month — or 218 homes per second.1 Now that's an engaged audience.
6. Webinars
Online real estate webinars can be a quick and easy (and free) way to learn about the latest gadgets and trends to help you with your real estate advertising. Zillow Academy and HubSpot offer educational resources to ensure your real estate advertising plans stay relevant, actionable and effective.
7. Web tools
Do you have a real estate site or blog? Improve your visitors' experience with Zillow Web tools that will engage them, enhance your content and raise your brand awareness. Widgets can provide customizable data ranging from your reviews and real estate market snapshots to available homes for sale in your region; they also offer co-branding based on your profile information. When contacts and leads click the specially coded Zillow widget on your website, your photo, contact info and link to your site appear at the top of each Zillow page they see.
You can turn your own website into a mini portal by joining the Zillow API Network. Millions of buyers and sellers actively seek out real estate data every day, and you can get it free from Zillow to add to your site. Visitors to your site can view up-to-date, compelling content such as home valuations, property details, neighborhood data, mortgage rates and more.
Real estate advertising doesn't have to mean expensive print ads and showy bus benches. In today's digital age, you can reach a bigger audience — faster and with better targeted messages — than ever before. With a full arsenal of advertising ideas to bring in your leads, you can spend more time developing relationships and converting them to clients.
1Google Analytics, June 2015