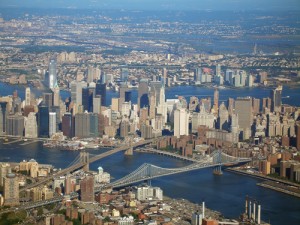 Yeah, thought that might get your attention.  Let me clarify the headline.
Of course it matters how much you pay for something, but it doesn't matter by itself.  It only matters in the context of the entire deal.  Let me use an example to show you what I mean.
Suppose you wer
e offered a piece of real estate, on which the cost was $5 million.  Sound like a lot?  Yeah, and if the property was 4 swampy acres in Mississippi, you'd be correct that that was a hefty price tag.  On the other hand, if the offered property was, say, 20 acres of lower Manhattan – did you know that the World Trade Center footprint was exactly one acre? – you might reconsider.  That would be a pretty good deal.  The price tag, in other words, has no meaning by itself, outside the context of what the price is attached to.
I had a client recently tell me that there was no way he was going to pay more than $4000 for closing costs on his loan of $390,000.  I asked him what the significance of that number was.  He said that $4k was just a huge price to pay for a refinance, and he didn't want to pay any more.  So I asked him a question: if he were saving $1000/mo on his payment, would he be willing to pay more than $4000 for the deal?
Turned out, he was.  Fascinating.
We had a lengthy conversation then about the tradeoff between costs and benefits, and he finally understood that what mattered was not how much the loan cost, but how fast the refinance paid for itself.  If it paid for itself in 6 months, that was a screaming deal.  If it took 6 years, that was not.  For each borrower that calculus is different, which is why good loan officers make refinance deals in terms of repayment times, not just interest rates and costs.
When you go to refinance, don't just ask for the Good Faith Estimate.  Ask for a cost-benefit analysis.  You're going to be investing your equity (or your cash) in the deal, and as with any investment, it's a good idea to know what the returns are going to be.  Refinances are great investments, most of the time.  You can see annual returns of 40-60%, or even more sometimes, guaranteed, tax-free.  Try that with a mutual fund.  But you should absolutely know what that return is before you make the investment.
So ask.
Cj