Today, the S&P/Case-Shiller Home Price Indices showed that the non-seasonally adjusted November 10- and 20-City Composites rose 4.5% and 5.5% on a year-over-year basis, in line with Zillow's forecast released last week. On a seasonally adjusted monthly basis, the 10- and 20-City Composites rose 0.5%  and  0.6% from October to November. The table below shows how our forecast compared with the actual numbers.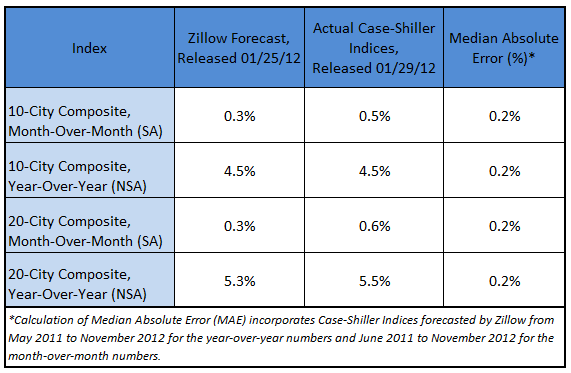 "We are seeing a strong recovery in most major markets as high levels of negative equity continue to constrain supply of for-sale homes, in turn leading to big price spikes. Our December numbers show that annualized appreciation will get even higher before the year is over. But, we do expect appreciation for the full year of 2013 to be much more moderate as these home price gains pull some sellers back into the market and new construction picks up,"said Zillow Chief Economist Dr. Stan Humphries.

"We are encouraged by the continued recovery in the housing market but remain concerned that the price volatility that we've seen over the past few years will discourage buyers and sellers from thinking about housing as a long-term investment," added Humphries.
Our forecasting model incorporates previous data points of the Case-Shiller series, as well as Zillow Home Value Index data and national foreclosure re-sales. To see how Zillow's forecast of the October Case-Shiller indices compared, see our blog post from last month.
See Zillow's forecast for the December Case-Shiller indices, released today, here.