Today, the S&P/Case-Shiller Home Price Indices showed that the non-seasonally adjusted December 10- and 20-City Composites rose 7.3% and 8.1% on a year-over-year basis, in line with Zillow's forecast released last month. On a seasonally adjusted monthly basis, the 10- and 20-City Composites rose 1.0% and 1.0% from December to January. The table below shows how our forecast compared with the actual numbers.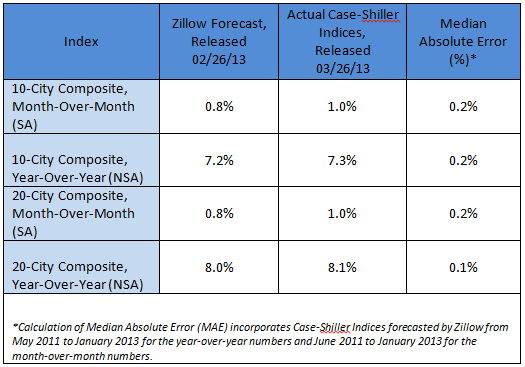 "In the coming months, the market will begin to normalize, and home value appreciation should moderate to more sustainable levels. Recent large, annual gains will bring more opportunistic sellers into the market, and new construction will also help to moderate the current imbalance in housing supply and demand currently helping to inflate home value appreciation rates," said Zillow Chief Economist Dr. Stan Humphries. "But sustained appreciation at these levels is concerning. In many markets, low mortgage rates – not necessarily low absolute home prices – are driving affordability. Once the Fed stops pushing borrowing costs down, we don't want to wake up and realize home prices have again climbed too high relative to incomes or rents. We've seen that show before, and we know how it ends."
Our forecasting model incorporates previous data points of the Case-Shiller series, as well as Zillow Home Value Index data and national foreclosure resales. To see how Zillow's forecast of the December Case-Shiller indices compared, see our blog post from last month. To see our forecast for February's Case-Shiller numbers, please click here.