Today, the S&P/Case-Shiller Home Price Indices showed that the non-seasonally adjusted February 10- and 20-City Composites rose 8.6% and 9.3% on a year-over-year basis, in line with Zillow's forecast released last month. On a seasonally adjusted monthly basis, the 10- and 20-City Composites rose 1.2% and 1.2% from January to February. The table below shows how our forecast compared with the actual numbers.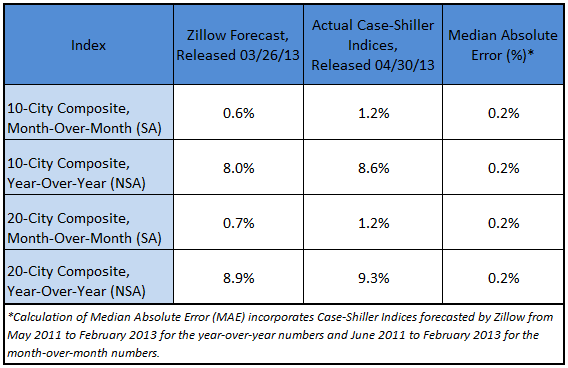 "Regardless what data you look at, home values are clearly rising at an unsustainable pace. More recent information indicates U.S. home value appreciation showed signs of moderating at the end of the first quarter, even as very rapid appreciation persisted in a handful of local markets, underscoring the uneven nature of the recovery. As these incredible price increases continue, there is a serious risk of future affordability issues once interest rates begin to rise," said Zillow Chief Economist Dr. Stan Humphries. "This report needs to start being taken with a grain of salt. The appreciation rates we're currently seeing in the Case-Shiller composite are not broadly reflective of what's happening in the national housing market right now. It is overly skewed to quickly rebounding markets – particularly in the Southwest and on the West Coast – and is being boosted by a shift in transactions away from foreclosure re-sales. It is not helpful information for consumers."
Our forecasting model incorporates previous data points of the Case-Shiller series, as well as Zillow Home Value Index data and national foreclosure resales. To see how Zillow's forecast of the January Case-Shiller indices compared, see our blog post from last month. To see our forecast for March Case-Shiller numbers, please click here.