Today, the S&P/Case-Shiller Home Price Indices showed that the non-seasonally adjusted March 10- and 20-City Composites rose 10.3% and 10.9% on a year-over-year basis, in line with Zillow's forecast released last month. On a seasonally adjusted monthly basis, the 10- and 20-City Composites rose 1.4% and 1.1% from February to March. The table below shows how our forecast compared with the actual numbers.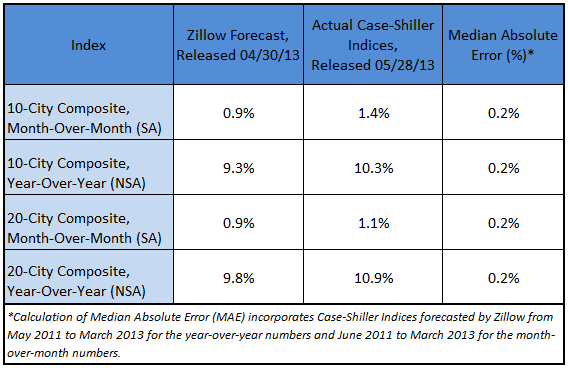 "Are home values really up more than 10 percent year-over-year? Well, yes, if you bought your home in a large coastal metro that had a big housing boom, and you bought a house that was half foreclosure and half non-foreclosure. Otherwise, home values really grew at roughly half this pace over the past year – not bad, and certainly confirmation that the housing market is experiencing a brisk recovery," said Zillow Chief Economist Dr. Stan Humphries. "Low mortgage rates and high negative equity are leading to very high demand and very low inventory, respectively, creating a kind of witch's brew of extreme price spikes. The bottom line is that these appreciation rates will slow down. Robust appreciation is not an immediate problem in areas like Phoenix and Las Vegas, which experienced huge price declines and are still very affordable. They are more worrisome in places like some California markets where affordability is no longer driven by home prices, but instead by low mortgage rates – which won't last."
Our forecasting model incorporates previous data points of the Case-Shiller series, as well as Zillow Home Value Index data and national foreclosure resales. To see our prediction for next month's Case-Shiller indices, please click here. To see how Zillow's forecast of the February Case-Shiller indices compared, see our blog post from last month.