Today, the S&P/Case-Shiller Home Price Indices showed that the non-seasonally adjusted April 10- and 20-City Composites rose 11.6% and 12.1% on a year-over-year basis, in line with Zillow's forecast released last month. On a seasonally adjusted monthly basis, the 10- and 20-City Composites rose 1.8% and 1.7% from March to April. The table below shows how our forecast compared with the actual numbers.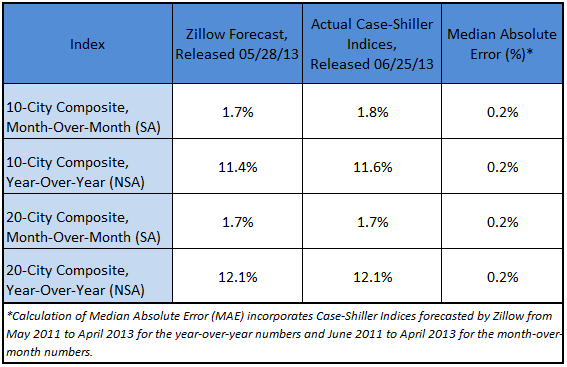 "Today's Case-Shiller numbers may reflect where the housing market has been in some of the frothier metros, but they are not indicative of where it's headed. The housing market worm has turned over the past few weeks – inventory levels are beginning to show signs of easing, and mortgage interest rates are creeping up. Going forward, both of these factors will help mitigate extreme price spikes caused by very strong housing demand and very low housing supply," said Zillow Chief Economist Dr. Stan Humphries. "Runaway appreciation in many of the large, coastal metros that form the backbone of the Case-Shiller indices will begin to moderate. Home value appreciation in some of these areas will have to slow down, or potentially fall, as higher bottom-line prices are no longer masked by rock-bottom mortgage rates. In general, the national housing recovery is strong and sustainable, but pockets of volatility will emerge as local fundamentals shift. Buyers expecting home values to continue rising at this pace indefinitely may be in for a shock."
Our forecasting model incorporates previous data points of the Case-Shiller series, as well as Zillow Home Value Index data and national foreclosure resales. To see our prediction for next month's Case-Shiller indices, please click here. To see how Zillow's forecast of the March Case-Shiller indices compared, see our blog post from last month.