Today, the S&P/Case-Shiller Home Price Indices showed that the non-seasonally adjusted May 10- and 20-City Composites rose 11.8% and 12.2% on a year-over-year basis, in line with Zillow's forecast released last month. On a seasonally adjusted monthly basis, the 10- and 20-City Composites rose 1.1% and 1.0% from April to May. The table below shows how our forecast compared with the actual numbers.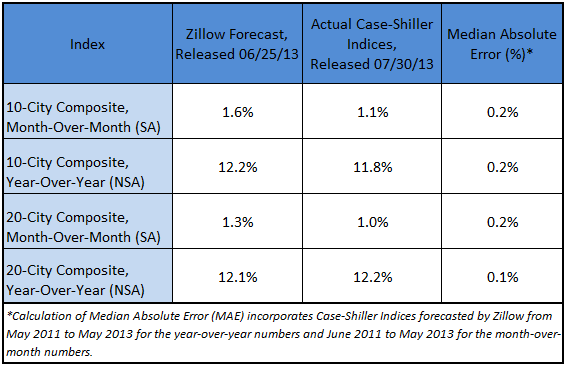 "Three straight months of national home value appreciation above 10 percent is not normal, not sustainable and, frankly, not very believable. As the overall housing market continues to improve, the impact of foreclosure resales on the Case-Shiller indices continues to be pronounced, as homes previously sold under duress trade again under more normal circumstances, leading to inflated and misleading markups in price," said Zillow Senior Economist Dr. Svenja Gudell. "It's increasingly critical that the average American homeowner not read numbers like today's Case-Shiller results and assume their homes must also have appreciated at these levels over the past year, or will continue to appreciate at these levels going forward. In reality, typical home values have appreciated at roughly half this pace for the past several months, which is still very robust. Looking ahead, a combination of rising mortgage interest rates, flagging investor demand and more inventory entering the market will all help to moderate the pace of home value appreciation and stabilize the market."
Our forecasting model incorporates previous data points of the Case-Shiller series, as well as Zillow Home Value Index data and national foreclosure resales. To see our prediction for next month's Case-Shiller indices, please click here. To see how Zillow's forecast of the April Case-Shiller indices compared, see our blog post from last month.