Zillow's July Real Estate Market Reports, released today, show that national home values rose 0.4% from June to July to $161,600 (Figure 1). On a year-over-year basis, home values were up 6% (Figure 2) from July 2012. The last time national home values were at this level was in September 2004. Rents were up 1.7% on a year-over-year basis (Figure 3). The Zillow Home Value Forecast calls for 4.8% appreciation nationally from July 2013 to July 2014. Most markets have already hit a bottom – with only 4 out of 258 not projected to hit a bottom within the next year – and 80 out of the 258 markets covered are forecasted to experience home value appreciation of 4% or higher. Of the nation's 30 largest metro areas covered by Zillow, all experienced year-over-year home value increases in July, with more than half up by double-digit percentages. Large metro areas expected to show the most appreciation over the next year include Sacramento (19.6 %), Riverside, Calif. (19.2%) and San Francisco (13.2%).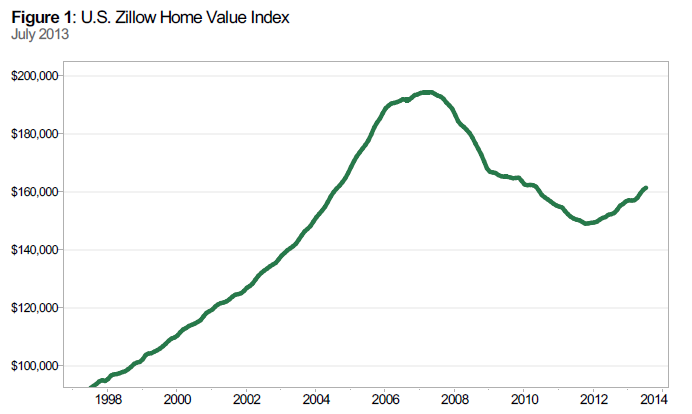 Home Values
The July Zillow Real Estate Market Reports cover 393 metropolitan and micropolitan areas. In July, 289 (73.5%) of the 393 markets showed monthly home value appreciation, and 303 (77.1%) of the 393 markets saw annual home value appreciation. Among the top 30 metros, all of them experienced monthly and annual home value appreciation. Leading the pack in positive monthly appreciation were Riverside, Sacramento, San Francisco and Las Vegas, which experienced 3.5%, 2.9%, 2.6% and 2.5% monthly home value appreciation, respectively – an extremely brisk pace of home value appreciation. Overall, national home values were down 17% from their peak in May 2007 and up 8.3% from the post-recession trough in October 2011.
Rents
The Zillow Rent Index (ZRI) covers 499 metropolitan ( and micropolitan areas and shows year-over-year gains for 282 metropolitan areas covered by the ZRI. Currently national rents are up 1.7% on a year-over-year basis, which is a slowdown from 5% to 6% annual appreciation late last year (Figure 3). Large markets that saw extremely strong annual rent appreciation include Cincinnati (10.4%), Denver (5.0%), Boston (4.0%) and Portland (3.6%). Some of the markets that are seeing very strong rental market appreciation are also among those that are seeing a fair amount of investor activity, as investors are buying up relatively cheap for-sale inventory and converting it to for-rent properties.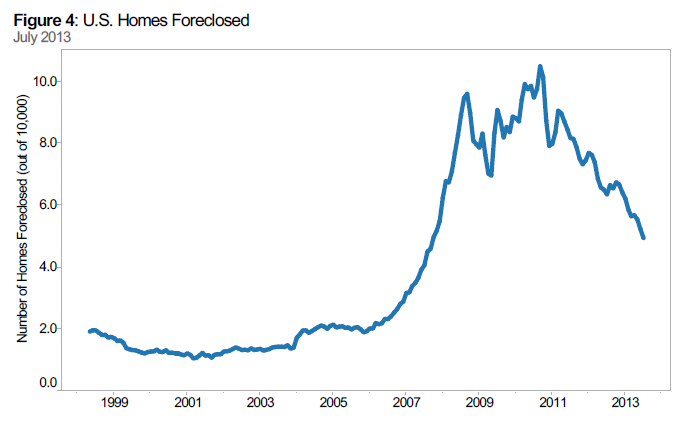 Foreclosures
The rate of homes foreclosed continued to decline in July with 4.9 out of every 10,000 homes in the country being liquidated. The last time it was at this rate was in October 2007. Nationally, foreclosure resales also continued to fall, making up 8.7% of all sales in July (Figure 4). This is down 3.4 percentage points from July 2012 and down 11.2 percentage points from its peak level of 19.9% in March 2009. The foreclosure pipeline is slowly being cleared out; however, judicial foreclosure states, such as New York, New Jersey and Connecticut, are much slower in clearing the foreclosed home backlog. These states are also experiencing a slower and less forceful turnaround as foreclosures resales (REOs) continue to put downward pressure on home values.
Outlook
With investor activity decreasing in markets that have experienced continued and strong home value appreciation, more for-sale inventory coming online and demand being dampened by higher mortgage rates, we expect home value appreciation to moderate later this year and into next year. Our forecast calls for another 4.8% in home value appreciation from July of this year to next July. We have started to see markets in the Northeast also recover, albeit at a much slower pace than markets in the South and West. We expect that investors now will turn to markets such as Atlanta and Chicago – where home values are still extremely low – as they are slowly starting to exit West Coast markets in California and Arizona. Certain risk factors remain in our forecast: Negative equity is still high at 25.4% of mortgaged homeowners underwater in Q1 of this year, and affordability is starting to decrease. Some markets, such as San Francisco, will become very unaffordable with increasing mortgage rates.