Today, the S&P/Case-Shiller Home Price Indices showed that the non-seasonally adjusted (NSA) July 10- and 20-City Composites rose 12.3 percent and 12.4 percent, respectively, on a year-over-year basis, in line with Zillow's forecast released last month. On a seasonally adjusted (SA) monthly basis, the 10- and 20-City Composites rose 0.7 percent and 0.6 percent, respectively, from June to July. The table below shows how Zillow's forecast compared with the actual numbers.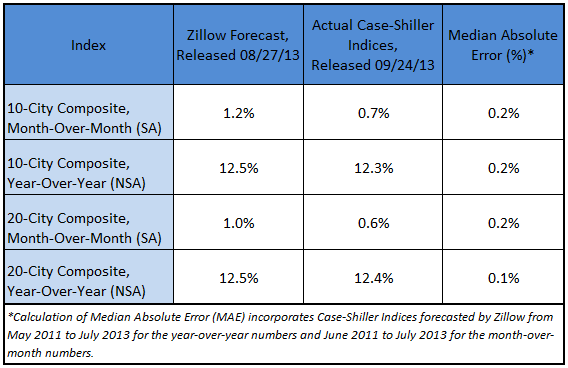 "On a monthly basis, Case-Shiller is showing some signs of slowing, even based on months-old data. More recent reports further illustrate a summer-long trend of slowing monthly appreciation in the face of a more than 100 basis point hike in mortgage interest rates beginning in late spring," said Zillow Chief Economist Dr. Stan Humphries. "Looking ahead, I expect the pace of home value appreciation to continue to slow as more supply comes online and mortgage interest rates remain above their recent lows, even as the Federal Reserve steps back from immediate tapering plans. This ongoing moderation is good for the market overall."
Our forecasting model incorporates previous data points of the Case-Shiller series, as well as Zillow Home Value Index data and national foreclosure resales. To see our forecast for te August Case-Shiller indices, click here. To see how Zillow's forecast of the June Case-Shiller indices compared, see our blog post from last month.