Overview
Zillow's third quarter Real Estate Market Reports show home values increased 1.2 percent from the second quarter of 2013 to the third quarter of 2013 to $163,000 (Figure 1). The quarterly pace of appreciation was roughly half that experienced in the second quarter. On an annual basis, the Zillow Home Value Index (ZHVI) rose 6.4 percent from September 2012 levels (Figure 2). On a monthly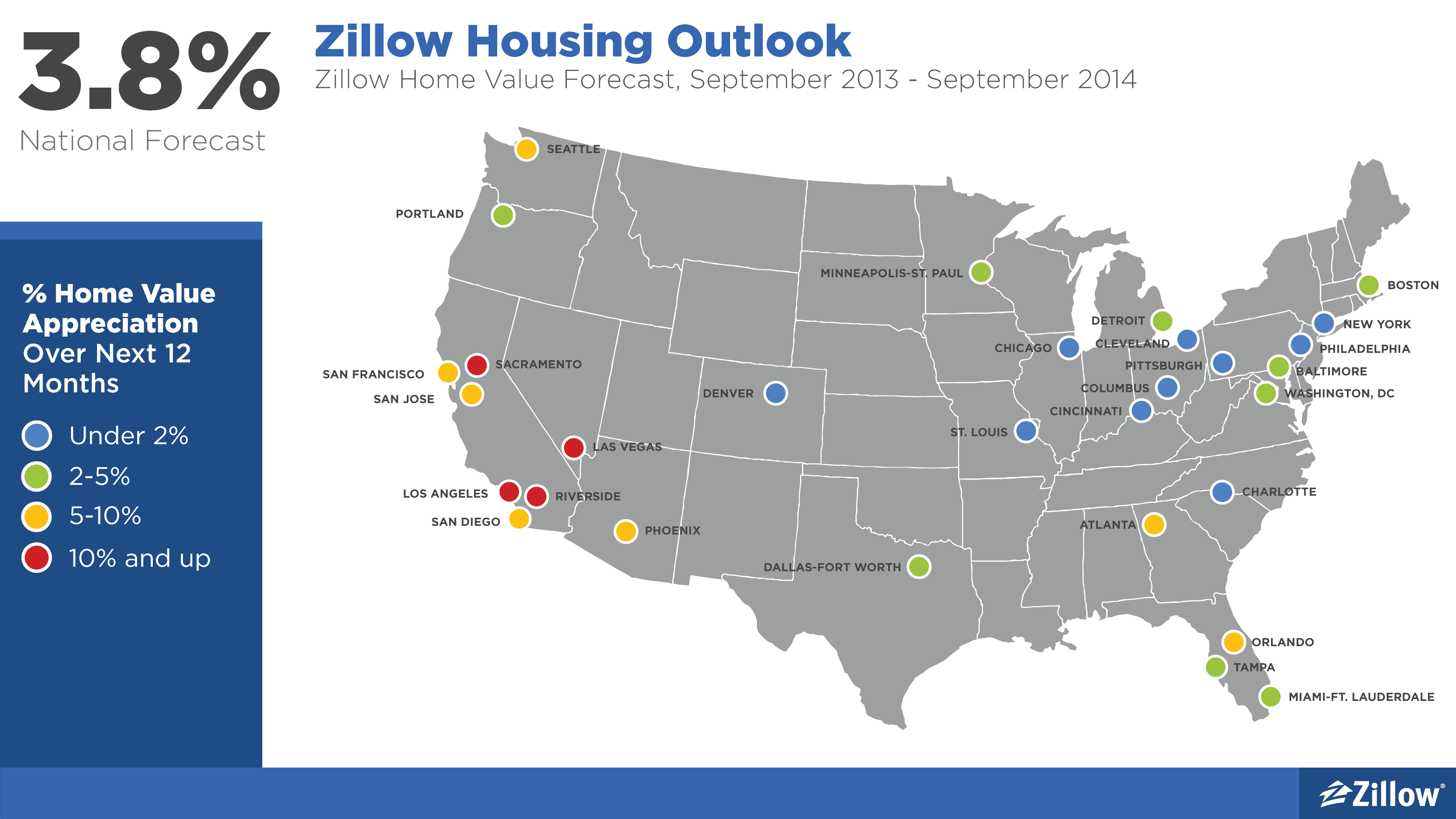 basis, home values are flat nationally. Overall, we are seeing a widening slowdown in home value appreciation. In fact, of the top 30 metros, half showed home value depreciation from August to September (note, the Zillow Home Value Index is seasonally adjusted). This slowdown was expected, and shouldn't come as a surprise, as home values have been growing at an unsustainable pace and affordability had been decreasing in light of higher home values and rising mortgage rates. Absent more substantial growth in incomes, some metros where affordability is already back in line with historical levels may see below-normal home value appreciation rates (or even modest declines) as mortgage rates return to normal.
According to the Zillow Home Value Forecast (ZHVF), we expect national home values to increase 3.8 percent over the next year (September 2013 to September 2014). Despite temporary adjustments in home values, of the 252 markets covered by the Zillow Home Value Forecast, 223 markets are expected to see increases in home values over the next year, with the largest increases expected in the Riverside metro (23.9 percent) and the Sacramento metro (16.7 percent). Many California markets follow closely at the top of the list of markets expected to see the highest home value appreciation over the next year. According to the ZHVF, 243 markets (96 percent) have already hit a bottom in home values, another five are expected to hit a bottom by June 2014 and four won't hit bottom this year. These markets are Atlantic City, Ocean City and Vineland in New Jersey and Salisbury in Maryland.
Home Values
The Zillow Real Estate Market Reports cover 390 metropolitan and micropolitan areas (metros) of which 291 showed quarterly home value appreciation. Four metros remained flat, while 95 metros show home value losses. Approximately 86 percent of the metros covered by the Real Estate Market Reports posted annual increases in home values – a sign the national housing recovery is continuing, despite monthly depreciation in some markets. Among the largest metros, Sacramento showed the largest annual increase with home values rising 34.1 percent from the third quarter of 2012 to the third quarter of 2013. Sacramento was also one of the metros that was hardest hit during the housing recession and home values are still down 32.5 percent from their October 2005 peak, despite the recent extreme increases in home values. Overall, national home values are back to October 2004 levels, down 16.2 percent since their peak in May 2007.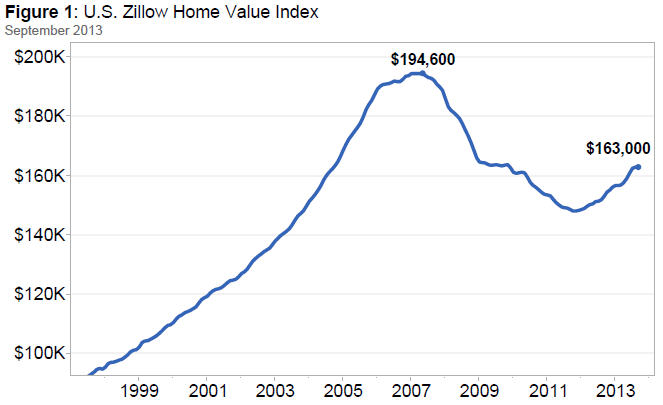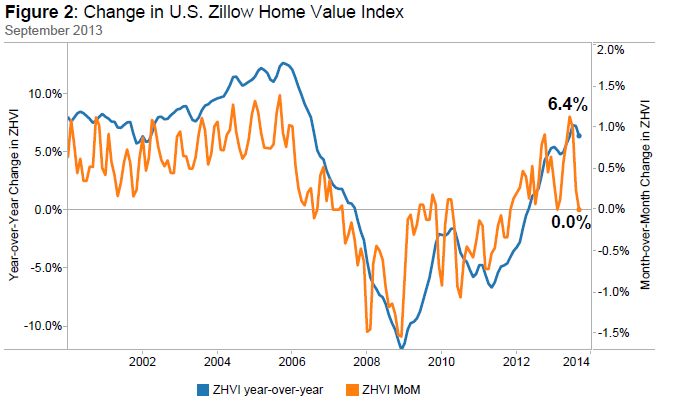 Rents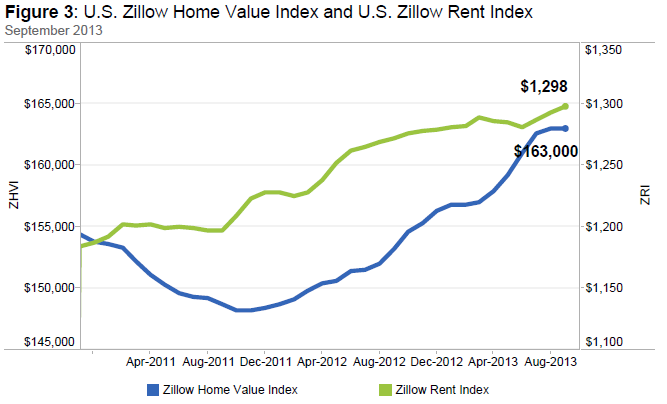 The Zillow Rent Index (ZRI) covers 510 metro areas, and 65 percent of those metros reported annual increases in rents in September. As a point of comparison, approximately 86 percent of the metro areas covered by the ZHVI experienced annual home value increases. Nationally, rents increased 2 percent in September from year-ago levels, denoting a slowing in national rents from their peak appreciation of 6.3 percent nationally in September 2012. Rising home values in the for-sale market paired with lower rates of rental appreciation in many markets is slowing the appetite of real estate investors who are not seeing the same rates of return as earlier. Markets that continue to see extremely strong year-over-year rent increases include New York (7.5 percent), Denver (6.8 percent) and Cincinnati (5 percent).
Foreclosures
The rate of homes foreclosed continued to decline in September with 5.12 out of every 10,000 homes in the country being liquidated through foreclosure. With home values having appreciated for almost two years,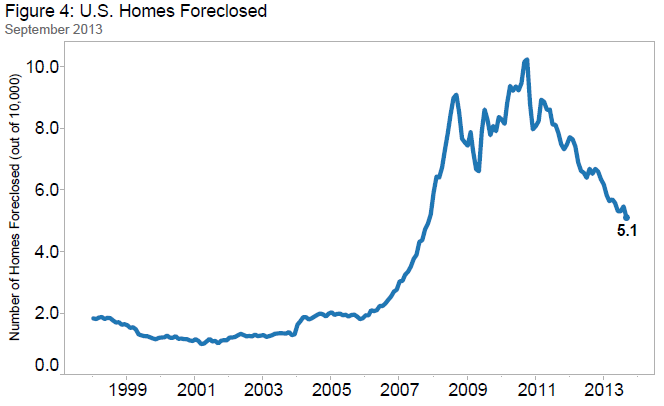 foreclosures are becoming less and less common. Nationally, foreclosure resales continue to decline, making up 8.32 percent of all sales in September, down 2.7 percentage points from the third quarter of 2012. For-sale inventory levels remain constrained, although constraints are beginning to ease slowly as negative equity rates decrease. The national negative equity rate stood at 23.8 percent in the second quarter of 2013 with only 8 percent (down from 9.2 percent a year ago) of underwater homeowners being delinquent.
Price Tiers
Figure 5 shows how the different price tiers of the housing market have been trending over time. We divide the market into the top, middle and bottom third of housing stock by home value. In general, the bottom tier has fared worse during the housing bust and has also been more volatile as it has experienced more extreme swings. Month-over-month depreciation was more pronounced for low-end homes in the midst of the housing recession and despite recent spikes in home value appreciation – especially for low-end homes – they are now the first tier to show depreciation on a national level again. This may be a result of slower demand from real estate investors who have been a major segment in the bottom tier.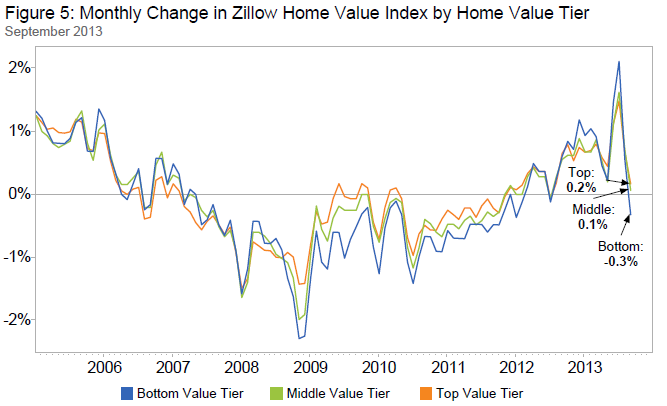 Outlook
The monthly pace of home value appreciation has slowed significantly in many metros. The larger decreases (home values decreasing more than 1 percent per month) can be seen in markets that we have been carefully watching as potentially re-emerging home value bubbles. After becoming enormously affordable during the housing recession, affordability levels in markets like San Francisco, San Jose, San Diego and Los Angeles are again close to historical averages and will become less affordable with rising home values and mortgage rates. Slowing home value appreciation will help these markets stave off another housing bubble. We expect the 30-year fixed mortgage rate to continue increasing and reach 5 percent next year, up from roughly 4.15 percent currently, according to the Zillow Mortgage Marketplace. It is important to remember that this slowdown in home value appreciation was expected and indeed a healthy next step in the housing recovery as appreciation rates get back to a more normal, steady pace.
Data Resources
Forecast Graphic: Zillow Home Value Forecast
Figure 1: Zillow Home Value Index
Figure 2: Zillow Home Value Index Summary
Figure 3: Zillow Home Value Index, Zillow Rent Index
Figure 4: Homes Foreclosed (out of 10,000)
Figure 5: Bottom Tier ZHVI, Middle Tier ZHVI, Top Tier ZHVI
Want to see more? Visit the data page.