Mortgage rates still hover near record lows, but some houses come with hidden costs — even paranormal ones. Take a look at some of the creepiest real-life homes featured in movies sure to give you the heebie-jeebies.
*Parents with little ghosts and goblins beware, these haunted flicks aren't for the faint of heart.
'Hannibal'
With a cannibalistic serial killer haunting her day job, is it any wonder Special Agent Clarice Starling chose this quaint brick residence as her home sweet home? Currently listed for sale at 3309 Park Ave, Richmond, VA 23221, this 1922 house features 4 bedrooms, 2.5 bathrooms, a finished basement and large wood deck.
'I Know What You Did Last Summer'
The house from this teen-slasher flick located at 308 W West St, Southport, NC 28461 is positively charming with wrap-around porches, 5 bedrooms and a stately oak-filled yard. We'd never dream this turn-of-the-century craftsman could be the site of so much cinematic gore.
'The Exorcist'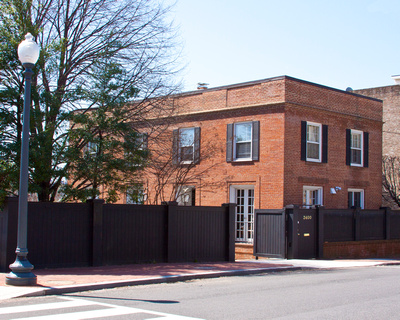 Photo courtesy of Steve Shoemaker
Sometimes it's the more ordinary looking homes that carry the spookiest legacies. Shaking beds, strange noises and supernatural voices plague the fictional family located at 3600 Prospect St NW, Washington, DC 20007. Let's hope the current residents enjoy a more traditional home life with 2,808 square feet and 3 bedrooms to call their own.
 'The Amityville Horror'
Dream house? Not for George and Kathy Lutz and their three children, who were tortured by evil spirits seeking bloody revenge at 108 Ocean Ave, Amityville, NY 11701. While this was the actual home where the Amityville murders took place, authorities did not allow filming here; the filming crew found a similar home in Toms River, NJ.
'A Nightmare on Elm Street'
Johnny Depp made his feature-film debut in this spine tingling blockbuster. The single-family home found at 1428 N Genesee Ave, Los Angeles, CA 90046 measures 2,700 square feet with 3 bedrooms and 4 bathrooms.
'The Texas Chainsaw Massacre' (1974)
Photo courtesy of mookielove
Ole Leatherface couldn't stop this home-turned-restaurant from becoming a community attraction — the good kind. Built in the 1900s, this Victorian residence was cut into six pieces before being relocated from its original film location in Round Rock to Kingsland, TX.
What's the most Halloween-worthy home? Let us know in the comments below.
Related: