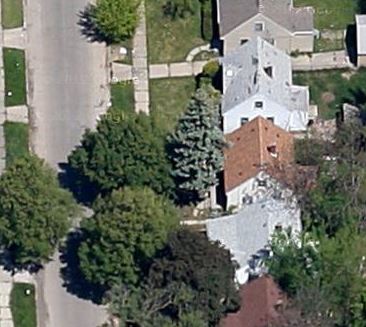 UPDATE: 11/22/13:  Reported "structurally unsafe" after the fire, Eminem's home was razed Wednesday, Nov. 20, according to local TV station CBS Detroit.
UPDATE: 11/11/13: According to the Detroit Free Press, Eminem's childhood home was damaged by fire on Nov. 7, 2013. The cause has yet to be determined.
ORIGINAL POST: When rapper Eminem, aka Marshall Mathers, was a teenager, he lived in a small home with his mother in Detroit's Greenbrier neighborhood. Today, the house is boarded up and abandoned, and it's up for auction on the Michigan Land Bank Fast Track Authority website, the Detroit Free Press first reported.
According to property records, Deborah Mathers bought the home in 1989 and lived there until 2003, well after Eminem's rise to stardom. His 2000 album, "The Marshall Mathers LP," features an image of the home on its cover, as does his most recent release, "The Marshall Mathers LP 2."
Located at 19946 Dresden St, Detroit MI, 48205, the 2-bedroom, 1.5-bath house is just a few blocks from 8 Mile Road; Eminem starred in the drama "8 Mile" in 2002, winning the Academy Award for best original song.
Like many properties in Detroit, Eminem's childhood home has been affected by the city's declining economy and has been foreclosed on several times, including in 2004 for $32,500, and in 2007 for $24,650. The most recent foreclosure was in late 2011, when the Michigan Land Bank took over the property. Zillow currently values the home at $32,818.
As part of the effort to temper the problem of foreclosures and abandoned properties in Detroit, the state of Michigan began the Land Bank program to "promote economic growth in this state through the acquisition, assembly and disposal of public property."
Although Eminem is still active in his hometown, currently producing a Web show, "Detroit Rubber," about a local shoe company, the rapper won't likely be buying his old house. He currently lives in a sprawling 20,055-square-foot home in Rochester Hills, MI.
Related: 
Erika Riggs, a real estate writer for Zillow Blog, covers celebrity real estate, unusual properties and home design trends. Read more of her work here.