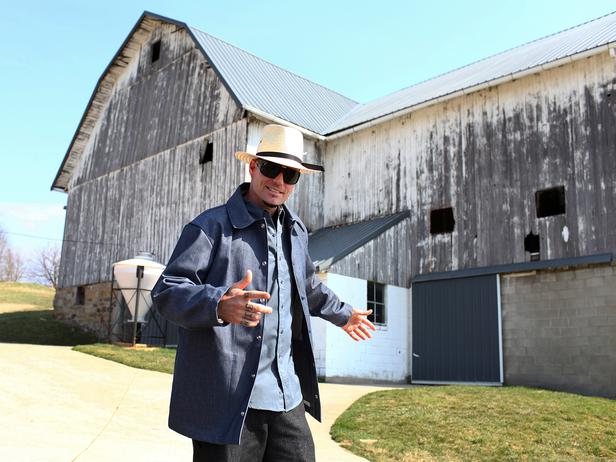 His name is Robert Van Winkle, but he's better known as Vanilla Ice, the rapper whose "Ice, Ice Baby" topped Billboard's charts in 1990 — the first rap hit to do so.
While Vanilla Ice continued to rap and appear in films during the '90s, he didn't produce another hit at the level of "Ice Ice Baby," motivating him to seek other career avenues, including competing in motocross and Jet-Ski racing. Eventually, he found what he says is a true passion of his: home improvement and design.
We caught up with Van Winkle recently, who credited Zillow with finding a buyer for one of his homes — "You helped me sell my last home. It's the greatest thing." — and explained how his career in home renovation took off.
"It's crazy," he laughed. "I didn't plan on anything."
At the turn of the '90s, Van Winkle says he bought a bunch of homes around the country as places to stay while he was touring.
"They were just like a piece of paper in a filing cabinet; I never used them. I was on tour, and I thought I'd use them," he explained.
He decided to sell them, and in doing so, realized that he could pursue real estate as a career.
He added home improvement to his resume, when he realized that the interior in one of his homes wasn't exactly what he wanted. After some heavy research, he did the full design and renovations himself rather than hire a set of interior designers and architects. In doing so, he says he caught the bug.
"It's a passion," he said. "Now not only do I build the homes; I design and decorate them. It led to a TV show, and I love it."
Actually, Van Winkle's entry into the home improvement business has led to two TV shows. He is currently filming a fourth season of the "Vanilla Ice Project," which follows him and his team as they redo a home and then sell it. His other new show, "Vanilla Ice Goes Amish," just debuted on the DIY Network this past week.
"Vanilla Ice Goes Amish" is quite a departure from Van Winkle's other home improvement show, and most home-related shows in general. Van Winkle went to live in an Amish community in Ohio, spending time with them to learn their construction methods.
"I kind of interned with them and learned how they did things," Van Winkle explained of his new show. "They really pride themselves on quality."
While Van Winkle says he learned a lot from the Amish on his show, he also points out that they learned from him.
"They picked up a lot of design stuff from me," he explained. "They're great builders, but limited more on style. I brought it in the glamour and luxury — the pow and the wow — quartz [and] limestone countertops, Palm Beach-style, feng shui."
He assures potential viewers that "it's the real deal."
"It took a lot of red tape to get through it — we assured them that we're not here to do a 'Breaking Amish' or 'Amish Mafia' on them, and they said, 'Listen, this guy really is a contractor,'" he said. "I didn't miss my phone or TV; we just had a great time."
For homeowners wanting to go the way of Van Winkle — not necessarily the music career but home improvement — Van Winkle has a few words of advice: "You gotta be cut out for it — it's not the easiest. Be prepared to get into the grind. It's blood, sweat and tears."
His other tip?
"Know you're going to go over budget," he said. "Everyone goes over budget."
Related: 
Erika Riggs, a real estate writer for Zillow Blog, covers celebrity real estate, unusual properties and home design trends. Read more of her work here.