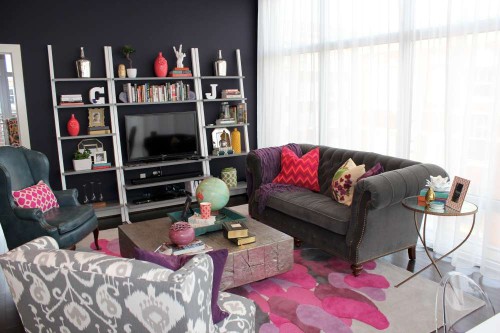 The client was a "young, spunky" professional in medical school, explained designer Megan Dunkmann of the Cure Design Group. Dunkmann was tasked with designing a loft that would be bright and fun but still practical for everyday living.
"She wanted a place that reflected her personality and would be fun to entertain in, but wasn't so over the top that she couldn't relax and study when the time came," Dunkmann said. She mixed new items with antiques, as well as injected some major color, to create a young, approachable space.
Bold entry
Dunkmann's client wanted something over the top and unexpected in the entry of her home.
"I think your entry sets the tone for your home. It definitely leads you into the rest of the loft and brings all the other spaces together," Dunkmann said. "This [entry] is fun, funky and unexpected."
The entryway's bold walls also become the focal point — no additional art needed.
Fun with color
Dunkmann had fun with color, pairing gray furniture with pillows and a rug in pinks and purples. The black painted wall is a modern and neutral backdrop for the collection of accessories.
Dunkmann's tip for using color in a space? Have fun, but don't paint every room a color of the rainbow.
"It needs to be cohesive and complement [other elements] to work," she explained.
Mix it up
A successful room design often mixes items from a variety of places. In this case, Dunkmann sourced a lot of finds from antique stores.
"I mix lots of old with new in the client's home. The old teal leather wingback chair, for example, was paired with the modern Chesterfield velvet sofa and a metallic-finished, reclaimed-wood coffee table," she said. "It works wonderfully together."
Dunkmann also added metallic elements to the room, referencing the nailhead trim on the antique chair with other brass accessories.
"Brass is making a comeback!" she said.
See more of Cure Design Group's work on Digs.
Find more inspiration for styling a colorful and eclectic living room.
Related:
Erika Riggs, the Zillow Digs manager, covers home design and trends. Read more of her work here.