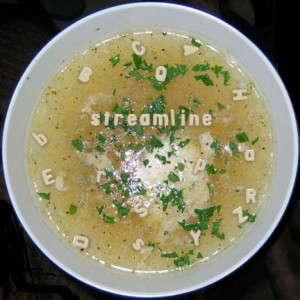 Regardless of the industry there are certain buzzwords or words that seem like they are created simply to confuse the outsider. Near the bottom of the list for business goals should be confusing customers. Unfortunately it does happen and the one who stands the highest chance for damage is the most valuable of all; the customer.
Mortgage professionals throw around terms like an alphabet soup that would frighten even Vanna White. Words like ten oh three (1003) and respa (RESPA – Real Estate Settlement and Procedures Act) fall out of their mouths like jelly beans out of a pinata.
Making it even a little more confusing for you different agencies use the same term to apply to different meanings and vice versa. Streamline and streamlined for example.
The Federal Housing Administration (FHA) makes available a couple of different "streamline" loans. Freddie Mac (FHLMC) has their "streamlined" loan.  Essentially they are the same product and if you phone an FHA lender and ask for a "streamlined" loan they will neither laugh at you nor hang up on you.
For all practical purposes streamline loans, whether a streamline refinance or otherwise, indicate something less is required or they go faster than a standard loan. For the FHA streamline refinance a little less documentation is required and sometimes less evidence of value is required.
Streamline refinances from FHA are available in two distinct offerings. One version of the FHA streamline
refinance does not require an appraisal to be performed and requires more documentation about the borrower while another version of the FHA streamline refinance does require an appraisal on the property but less documentation on the borrower. Lender rules may overlap or augment FHA insurance requirements.
Offered also from FHA is the FHA 203k streamline loan for properties being purchased or refinanced and the loan including rehab or upgrade costs. The FHA 203k streamline loan does require all of the normal borrower and property documentation but because the upgrade or rehab costs are limited to thirty-five thousand dollars the loan process itself is less complicated than for a full FHA 203k which allows a higher amount of rehab.
Veterans can take advantage of the Veterans Administration's Interest Rate Reduction Loan (IRRL). Like most other streamline loan types the VA IRRL require less documentation and can, usually, be closed a little more quickly than other types of loans.
The best way to find out about the streamline loan which is best for your needs, if you and your property qualify for a streamline loan and any other particular questions to be answered about a streamline loan for you the best way to get answers is to contact a seasoned mortgage professional in your area.
* Alphabet soup image created at RedKid.Net