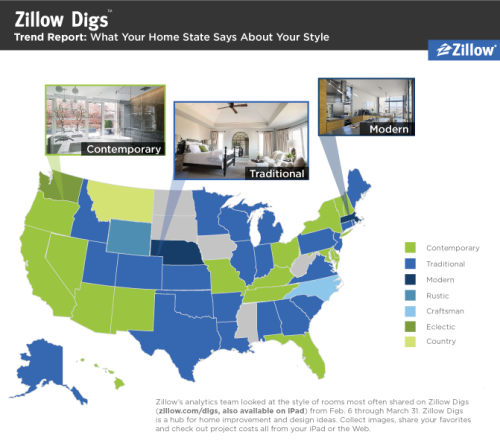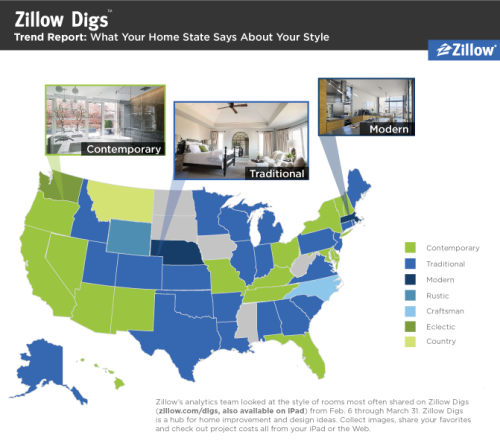 Last week we looked at Zillow Digs' usage across the country to round up some of the biggest spring home improvement trends. This week, we peeked into Zillow Digs' users' style and wallet size.
What does your home state say about your home decor style?
Zillow's analytics team looked at the style of rooms most often uploaded on Zillow Digs. Traditional won the country with 23 states favoring it over all other styles. Texas, Colorado and Idaho are just a few of the states "digging" traditional-style rooms, which typically have a lot of white and detailed millwork, wood flooring, antiques and rich fabrics. Contemporary was a close second with 17 states, including California, Florida, Arizona and New York.
For those of you with traditional kitchens, it sounds like you're right on trend! Last week we shared that traditional kitchens topped the list of hottest trends for the season.
How much do America's favorite bathrooms and kitchens cost?
We also looked at the average cost of the most popular bathrooms and kitchens on Zillow Digs. Bathrooms ranged from $15,000 to $20,000, and kitchens from $40,000 to $45,000. People may enjoy looking at high-end, luxury spaces, but when it comes to their wallet size, they are more realistic and save what they more likely can afford.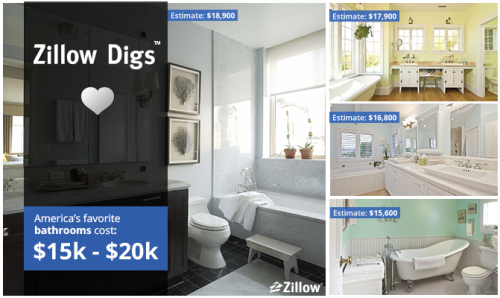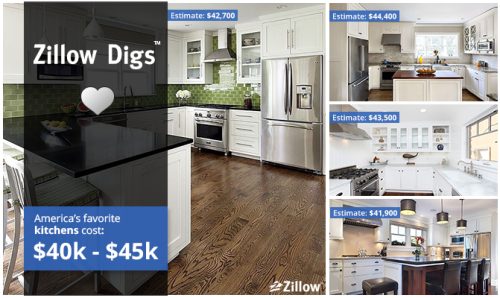 With Zillow Digs, homeowners can find their own unique design style by finding photos they love, and saving and sharing photos to create a dream home or to gather ideas for their next home improvement project.
Whether you're just browsing or planning your next remodel project, Zillow Digs can help you get ideas and understand the cost of the actual bathrooms and kitchens you see.
Related: