Zillow's housing forum, "Getting Our House in Order: Solving the Lingering Issues of the Housing Recession," gets underway today at 9:30 a.m. ET in the Pavilion Room of the Ronald Reagan Building and International Trade Center.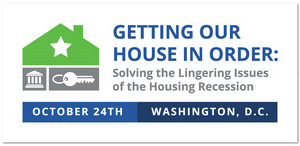 Zillow is hosting the event with the Bipartisan Policy Center.
While the forum is sold out, you can follow it via live stream on this page. You can also submit questions and track highlights on Twitter, using the hashtag #HousingFuture.
We will also post a recap of the event. Stay tuned!