Zillow Announces Record Results for 2013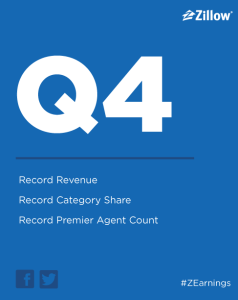 Today, Zillow is announcing results for the fourth quarter 2013, as well as the full year. This was a breakaway year for Zillow, in which we repeatedly delivered record revenue, traffic and mobile usage, as well as growing our market share as the category leader. You can see the full press release here. Some highlights from the quarter are below.
Record Quarterly Revenue of $58.3 million, up 70% over fourth quarter 2012.
Record Quarterly Net Income of $2.7 million, resulting in basic and diluted EPS of $0.07 and $0.06, respectively.
Record Quarterly Adjusted EBITDA of $15.2 million, representing 26% of revenue.
Quarterly traffic grew 57% year-over-year to 54.4 million average monthly unique users on mobile and Web. In January 2014, Zillow traffic reached a new peak with nearly 70 million unique users.
Zillow continued to gain market share in 2013. According to comScore, Zillow is now approximately double the size of its two closest competitors on combined Web and mobile traffic in comScore's Real Estate category.
I will be hosting our fourth quarter conference call with Zillow CFO Chad Cohen today at 2 p.m. PT/5 p.m. ET. A link to the webcast is located in the investor relations section of Zillow's website, and a replay will be available after the call.
This quarter we're happy to be partnering with TheStreet to allow more investors and interested parties to participate in the conversation and connect directly with Chad and me. One year ago, Zillow became the first company to take questions during an earnings conference call using social media. We'll continue that this quarter, and will consider questions submitted via Twitter, using the hashtag #ZEarnings, and Facebook, in addition to questions submitted by those dialed into the call.
Additionally, I will jump on Twitter immediately following the call to answer additional questions. The live Twitter chat will be moderated by @TheStreet and will also use the #ZEarnings hashtag.
I'm really proud of Zillow's terrific and growing team, whose great ideas, hard work and relentless focus on the needs of our users have all contributed to an excellent year in 2013. I'm looking forward to great things to come in 2014.