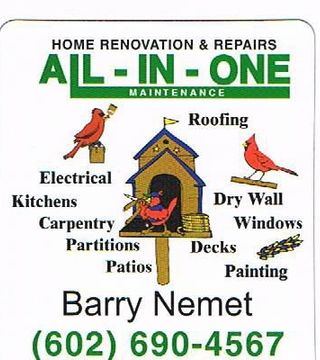 Electrical, General Contracting, Painting, Plumbing, Scottsdale, AZ
All in One Maintenance
Welcome to All in One Maintenance of Scottsdale, Arizona. Your number one solution for kitchen remodeling, bathroom remodeling, painting, and more! We also provide general contractor work and handyman services. As a member of the Better Business Bureau, you can be sure that we provide only the highest quality of work, whether we are doing a basic paint job, or remodeling an entire kitchen. Call us
today, and let us help you get all of your home projects done the right way.

You can save money without compromising Quality or Service! Barry will analyze your needs and provide a detailed estimate to serve you. Just give us a call for more information!


All in One Maintenance specializes in:

Kitchen Remodeling
Bathroom Remodeling
Painting Contractor
General Contractor
Handyman Services
Home Renovation and Repairs
All Phases of Drywall. (Install new Drywall, and Texturing)
All Interior and Exterior Painting
Carpentry (Build Closets, Install Doors, Windows)
Plumbing (Install Faucets, Sinks, Toilets)
Electrical (Install Lighting, Switches, Outlets)
Tiling (Install Ceramic, Porcelain, and Stone Tile)
Roof Repairs and Roof Coatings

No Job Too Small

Give All in One Maintenance a call today at (602) 690-4567 to find out more about our remodeling and contracting services. You'll be glad gave us a call.
... see more
AllinOneMaintenance hasn't created any Boards yet.