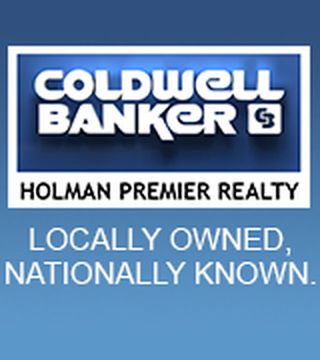 Coldwell Banker Holman Premier
Since 1982, Coldwell Banker Holman Premier Realty has been here for you. Real Estate in Klamath Falls, Oregon is our specialty. We have agents that specialize in Residential property, Commercial property, Farm and Ranch property, Multi-family property, Vacation Property, Resort Property, and bare land.
Our Reputation gives you "The Competitive Edge":
TEAM: We have assembled a team of 32 real estate professionals to help you buy or sell your property.
SUPPORT: Backed by Coldwell Banker, the largest real estate company in the world with local, national and international networking resources.
AWARDS/RECOGNITION: Coldwell Banker Holman Premier Realty is the #1 Residential Real Estate Office in Klamath County for the past 11 years!* Coldwell Banker Holman Premier Realty earned the prestigious Coldwell Banker President''s Award of Honor. A distinction limited to only 106 firms of the more than 1,200 Coldwell Banker companies throughout the World!
We are the #1 residential real estate company in Klamath County, since 1999.*
*For cumulative residential dollar volume, from 01/01/1999 to 12/31/2013
Corporate History:
In 1906, Colbert Coldwell, a young real estate agent, observed families trying to piece their lives together following the San Francisco earthquake. Disapproving of agents who acquired their properties from vulnerable sellers and resold it at huge profits, and seeing a tremendous need for honest, knowledgeable real estate people, Colbert Coldwell founded his company with a revolutionary philosophy: the customer''s best interest above all.

In 1914, Benjamin Arthur Banker joined Colbert Coldwell as a full partner. Together Coldwell and Banker forged a tradition of integrity, exceptional service and customer satisfaction that became our company''s trademark.

In the October 2008 edition of Franchise Times, Coldwell Banker was ranked the #1 Real Estate franchise globally. Coldwell Banker was ranked 12th overall. Other winners included McDonalds, Blockbuster and the Marriott Hotels.

Independent History:
Our independent office was started in 1972. Later Hank and Pat Holman joined the Coldwell Banker team in 1982. Frank Reskin became a partner in 1996 and purchased the company outright in 1998. In 2000, Coldwell Banker Holman Realty acquired Premier Real Estate, which explains our lengthy name. The merger led to the need for more office space so the group moved to the old Andersch Furniture building.

In the spring of 2001, Coldwell Banker acquired V.I.P. Real Estate and six more agents were brought onto the team. In the summer of 2001, Coldwell Banker Holman Premier Realty launched a half hour TV show to showcase its listings. 'This Week in Real Estate'', shown on Friday and Saturday mornings, became the first of its kind in Southern Oregon.

In January 2005, Bill Haskins, a native of Klamath County, moved back to Klamath Falls and purchased Coldwell Banker Holman Premier Realty from Frank Reskin, becoming the 3rd owner of the company since 1972.

Coldwell Banker Holman Premier Realty has received many awards over the last 41 years. The one we are most proud of is being the #1 Residential Real Estate Company in Klamath County, since 1999.
... see more