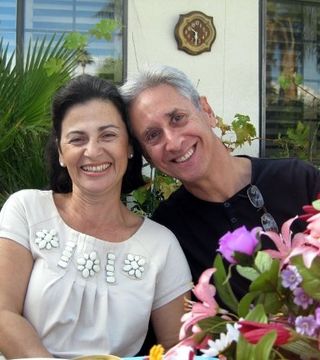 Claudine Messika & Alvin Fuchs
The local market Palm Springs and the area is Claudine's backyard and home. From herworldwide business background in real estate, perhaps it comes as no surprise that Claudinespeaks fluent French, Italian, Hebrew and of course English.
Claudine provides her clients with a perfect blend of experience, knowledge, ethics and commitment to service. Her background ( Realtor in Europe for many years) and experience allows her to think strategically , provide disciplined advice and execute on that advice so that her clients reach their goals. Claudine is a trained negotiator and a problem solver who enjoys providing favorable results.

She also specializes in helping people relocate. Blending years of business experience, her international skill set and work ethic, Claudine is the best choice for all your desert real estate needs.

Alvin Fuchs:

Born and raised in the East New York section of Brooklyn, New York
Joined the Navy where I was trained in electronics and was subsequently station aboard USS Chicago, CG-11, based in San Diego. After three tours to Vietnam I was honorably discharged as an FTM1 (E6) in 1975.
I then worked in assorted engineering positions until going into electronics and computer sales in 1980. I have been a commissioned sales professional ever since including the last 10 years in Real Estate.
In 1980, I graduated, with distinction, from University of Redlands with a BA in Management. (Och Tamale).
I am an active member of RACES (Radio Amateur Civil Emergency Service). I am KI6HVB.
... see more
Claudine Messika & Alvin Fuchs hasn't created any Boards yet.