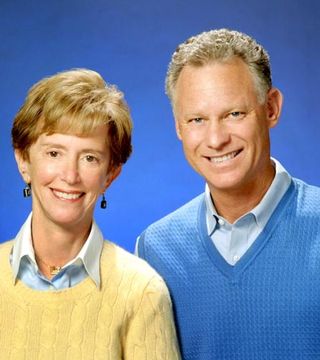 Team Chodorow For more than 38 years, Team Chodorow has been a dominant force in the local residential real estate market. They have averaged a sale a week since 1977, and toward the end of 2005, they surpassed an astounding billion dollars in lifetime sales.
The team has been successful selling homes and condos in La Jolla, Del Mar, Carmel Valley, Rancho Santa Fe, University City, and Pacific Beach as well as Point Loma and
Hillcrest, but what pleases the team most is not the volume or range of its sales. It is the consistency. "In good times everybody does well," says Peggy, "but in bad times we've kept up the pace." Both Eric and Peggy are exceptional negotiators. They find ways to make deals for their clients. They listen carefully and understand their clients' needs and goals; they leave no stone unturned to make their clients' goals come to fruition.

A graduate of Cornell University, Peggy Chodorow's background in the real estate industry spans more than 3 decades. By consistently delivering positive results for her clients, regardless of economic market conditions or fluctuating mortgage rates, she has enhanced her exceptional standing in the real estate community.

La Jolla native Eric Chodorow earned his real estate broker's license 18 years ago, after graduating from the University of Southern California. His knowledge of the local real estate market, construction techniques, and ability to spot hidden gems with potential for appreciation has made him one of San Diego's most sought-after professionals.

"I believe the economy will continue to show increased signs of recovery," said Eric Chodorow. "Prices are holding steady and the volume of sales is increasing."

Team Chodorow operates out of the Prudential California Realty's La Jolla office, at 7780 Girard Avenue, La Jolla. They can be contacted at 858-456-6850, or via email at contactus@TeamChodorow.com.
... see more
Team Chodorow hasn't created any Boards yet.